Gillette's Five Blade Folly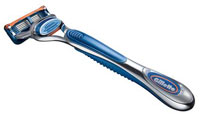 What you see to the right is the latest in shaving ridiculousness from the fine folks at Gillette: the five blade "Fusion" razor. That's right. Five blades. Six if you count the built-in trimming blade. In the battle to out-blade the competition, Gillette's latest creation leapfrogs the Schick Quattro by one blade and aims to provide an even closer shave to the millions of men who apparently are having trouble with only three or four blades.
Gillette's previous flagship razor, the Mach 3, has three blades while the Schick Quattro has four, but Gillette president James Kilts insists this latest "innovation" has nothing to do with the competition:
"The Schick launch has nothing to do with this, it's like comparing a Ferrari to a Volkswagen as far as we're concerned… There was never a plan to go to four." — James Kilts.
Now I'm no Schick fan, but I am a Volkswagen fan, so this comparison of Schicks to Volkswagens troubles me on an automotive level. What troubles me even more though is the outright lie that going to five blades had nothing to do with Schick's four-blade model. So we're supposed to believe that studies in Gillette's labs showed that a 1, 2, 3, or 5 blade razor is great but a 4 blade razor isn't? This launch has everything to do with Schick, and I think at 5 blades we've officially reached the point of imperceptible returns in the razor blade industry. Seriously. If you can't get a close enough shave with 2 or 3 blades, maybe God is telling you to grow a beard.
I am no authority on close shaves since I currently sport a beard, but I have definitely gone through my paces with razors. I started with the Gillette Atra Plus in high school and never found anything easier on my face. I've never liked Schicks, thought the Mach 3 was pretty good, and absolutely hated the Sensor. Can't do the electrics either… don't have the right sort of face for it. So anyway, that's my razor preference: What's yours? And would you try a 5 blade model?
*Note: This is not part of an organized effort to hype the Gillette Fusion razor within the blade-enthusiast community. I do, however, recommend trying out some Mint-flavored shaving cream.