The Mouse That Roared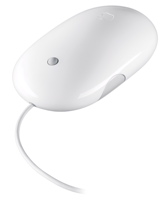 True story
I was at the Seattle Apple Store just yesterday scooping up some iMacs, Powerbooks, and Cinema Displays for my new company, and as I was about to pay, Jason — the Apple Store Business Consultant — asked me if I wanted the "wireless versions" of my iMacs.
Me: "You mean with wireless mouse and keyboard?"
Apple Store Jason: "Yes. For $60 more, there is a version with a Bluetooth mouse and keyboard."
Me: "Well if you guys would finally put out a mouse that was of any use to me, I'd probably take you up on that, but for now, I'll stick with aftermarket mice."
Apple Store Jason: You mean you want a multi-button mouse?
Me: Yeah. If you don't want to give in on the whole "multi-button" thing, how about at least making a mouse that could sense where you push it and act accordingly?
Apple Store Jason: "Yeah, that would be nice."
Later on that day…
After setting our Macs up at the new office, we were paid a visit from a personal friend of Steve Jobs (or PFOSJ)… a person who is also involved in the formation of our company. Here is the conversation which followed:
PFOSJ: "Alright! You guys are going all Apple!"
Me: "Yeah, totally."
PFOSJ: "These iMacs are really nice machines, aren't they?"
Me: "Yes. Can you tell Steve to kill this one-button mouse nonsense already though? It's getting ridiculous."
Great day in the mornin'!
Fast-forward about 16 hours to this morning and we now have news of the Mighty Mouse! A multi-function mouse which can sense where you press it and act accordingly! Not only that, but there's an omni-directional scroll-wheel as well, and pressure-sensitive side buttons.
I know you PC people out there are going to laugh at how happy this makes us Mac people (being that you've had multi-button mice for years), but it really is a momentous occasion. The one-button mouse was the last indisputable disadvantage of Apple hardware, and also the last vestige of stubbornness left over from the pre OS X days.
The one-button mouse is dead. Long live the Mighty Mouse!
UPDATE: Jason, the Apple Store Business Consultant, just called to tell us the Mighty Mouse sold out in 30 minutes this morning, but he set aside three of them for us! Alright! Thanks Jason! You are the man!
UPDATE #2: The mouse is in the house! I was skeptical right up until the moment I plugged it in, but this thing is actually pretty nice. Contrary to a couple of comments above, there actually *is* tactile feedback upon clicks and scrolls and it feels really good. The scrollwheel is amongst the best I've used as well. My advice is: if you like the general shape and feel of the stock Apple mouse but just wish it had more functionality, you will love this mouse. If you just don't like the Apple mouse much to begin with though, you probably won't like this either. Head on down to your local Apple Store and give it a try.