Baseball's Latest Scandal: Milk Suspensions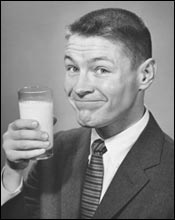 ESPN has word of the latest scandal to hit baseball: milk consumption contests. Much like The Saltine Challenge, these competitions test the human body's ability to ingest an uncomfortable amount of food over a very short period of time.
The Milk Challenge has been around for a long time and is, in my opinion, much tougher than the Saltine Challenge. The idea is to consume an entire gallon of the white stuff in less than an hour without throwing up. I'm not even sure I could do that with water, but with milk? Certainly not. Too much lactose makes the stomach very, very angry.
So you'd think that if someone could actually defeat the Milk Challenge, he'd be showered in glory and valuable prizes, right? Well, not in baseball. Brad Penny, pitcher for the Florida Marlins , challenged a batboy to complete the challenge with $500 in cash as an incentive. The poor kid ended up drinking the gallon, held it down, but didn't come in under the one hour mark so he never got the payout. As if that wasn't bad enough, the Marlins then suspended him for six games! 10 games for steroid abuse and 6 games for milk abuse. Good times.
I only hope Penny ended up giving the kid his $500.