Bad Blur Jobs
I just read this entry on Scott Fegette's blog about a really nice new feature of Dreamweaver 8 called "Code Collapse", but that's not really what got my attention about the blog entry. Check out the blur job on the screenshot below: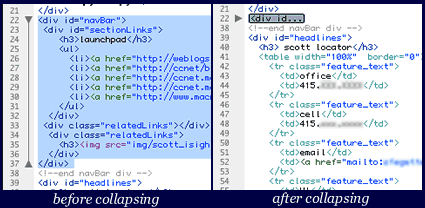 You blur out two phone numbers that are already fake (415.XXX.XXXX) and then don't even blur out your own e-mail address enough to keep people from guessing exactly what it is? I mean c'mon… it ends in macromedia.com, doesn't it?
Anyway, sorry Scott… I'm sure someone else is the guilty blurrer here. I just felt like bringing it up.
And hey, great job with Dreamweaver 8! I can't wait to try it out.