Of iPods, and Music Videos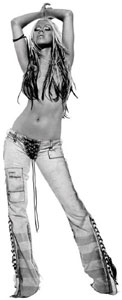 I know I'm an old man already at 30, but I think the last music video I watched was something from Christina Aguilera's Slut-Yourself-Rich period a couple of years ago. Even then, I'm pretty sure I only watched the whole thing because I thought she was going to violate the "no live sex on TV" rule in front of my very eyes. Well, she didn't, and I haven't watched a music video since.
… which makes me wonder about all this talk of Apple's alleged plans to sell music videos for display on iPods.
Is this really a viable market? I don't think it is. The amount of music videos Apple will sell is probably much less than 1% of the amount of audio tracks they will sell, so it's clearly not the reason the company is adding video capabilities to their iPods. More likely, it is a way to ease iPods with video capabilities into circulation until Apple has more compelling content to offer.
Conventional wisdom says the real money is in movie distribution, and while I agree to a point, there are so many issues being negotiated behind the scenes that it is understandable why this hasn't materialized yet. Working at Disney for the past five years, I can't even begin to tell you how long the chain of rights is to negotiate with regards to theatrical releases. The single biggest achievement of the iTunes Music Store was not the interface, the distribution, or the selection of music… it was the negotiating of rights by Steve Jobs. Jobs offered each music label the exact same deal, and being the most charismatic technology figure in the world (probably ever), he convinced them all to take it. Doing the same thing in the movie world isn't impossible, but it's going to be much much harder.
That's also to say nothing of DRM issues in the video world. If you're wondering why Microsoft is the only company in the world with industrial-strength video DRM right now, it's largely because they settled a lawsuit with InterTrust about a year ago for $440 million putting them in the clear of any DRM-related lawsuits. Many companies are afraid to infringe on InterTrust's patents right now, and Apple may or may not be one of them. If Apple feels they can create video DRM without infringing, they will. If they don't, they will either have to sit on the sidelines or license.
Getting back on topic, I feel like Apple's best move right now is not in music videos but concert videos. I wrote about this back in February when I suggested a video device with which to view concerts but the idea received only a lukewarm reception in the comments. Fast forward to July now and we have news of an AOL/AEG/XM cooperative called "NetworkLive" which will not only deliver live and archived shows via audio and video streams but actually play a part in producing the concerts themselves.
Big, BIG missed opportunity for Apple here in my opinion… especially since the rumored investment in this initiative is an extremely affordable $15 million.
If I'm Apple, I'm knocking on the door of NetworkLive right now and if no one answers, I'm busting the damn thing down.