Is Gold Really Worth Anything?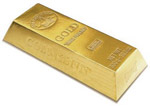 Mark Cuban is full of a lot of things. Lots of great ideas, lots of money, lots of love for NBA officials. Just lots of "stuff". A veritable box of inspiration, really. The other day, he wrote a post about something I've thought about for quite some time: the present day value of gold.
Hundreds of years ago, gold was treated as a global currency because it was relatively rare and it helped produce items which indicated social status (viz. jewelry). If your family had a lot of gold, it was considered rich. If your country had a lot of gold, it was considered rich. Eventually, when everyone moved to paper currency, the idea was that each unit of paper was "backed" by one unit of gold in the treasury. The concept being that if the entire global economic system were to break down, we'd still have the gold to trade with.
This concept, however, is almost completely obsolete in today's society. In the case of a global economic meltdown, who is going to care about collecting bars of gold? These days, it's things like oil, enriched uranium, and natural gas that become the real currency of survival in such dire times.
Cuban takes things a step further though and brings up something I hadn't thought about: given that gold has little substantive value anymore (it's not even close to the most precious element), why not take our entire supply and sell it off at $420 per troy ounce while it's still worth something? Maybe pay down the national debt a little?
It's been many years since I took my last macroeconomics class so I'm sure Cuban is probably missing something here that would throw the world into a tailspin, but it really doesn't seem like a terrible idea to me… in theory at least. The toughest part about it, and possibly the deal-killer, seems like the process of unloading it. The U.S. obviously couldn't just announce one day that all of their gold was for sale. Perhaps in steady chunks over a long period of time though, it might work.
Anyway, I'm way out of my "element" here… just wanted to mention this interesting idea.