Nike.com: Still Confusing After All These Years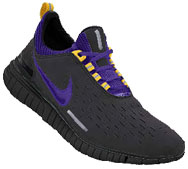 I've been a critic of Nike's online presence since the first time I tried to find out about a shoe seven years ago and was greeted instead with a confusing Flash movie having nothing to do with shoes and leading me around in circles until I had to go to Google. "Design vomit" is what I call that stuff, and most things Nike did back then reeked of it.
Over the last few years, the company seems to have gotten more web-savvy and now produces a good mix of design-driven and utilitarian interfaces depending on what the marketing goals are for any particular sub-site.
Wanting to give them another shot, and needing a pair of running shoes now that I actually have time to run, I checked out nike.com and found this really cool shoe that you can custom design for yourself online.
Great!
I spent the next 10 minutes choosing the colors of every single element of the shoe, right down to the lace eyelets, through a very slickly done Flash interface. I went to the University of Washington for my undergrad degree so the shoe I created was black, purple, and gold. The process couldn't have been any easier… kudos to the Flash team on configurator: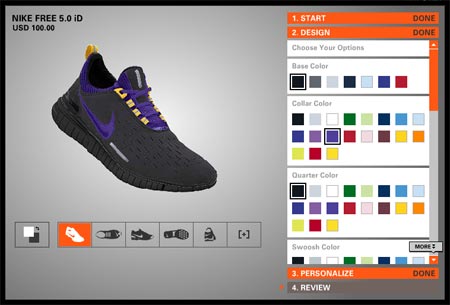 Then came the breakdown.
There was no "add to cart" button anywhere. There was a "store locator" button so I assumed they wanted me to go down to Niketown or something and try it on first and then maybe order it from the store. Luckily, I have a Niketown about a 15 minute bike ride from my place so I pedaled down there and tried on a non-configured version of the shoe. Size 11, great. I asked the guy how to go about ordering the customized version and he told me to go online.
I said "You mean you actually do the ordering online?"
He said "Yep."
I said "Ok, I'll look again, but I didn't see that option."
He said "Yep, that's how you do it."
So I ride home and reconfigure my shoe from scratch again. I hit the "Review" button and up pops this error: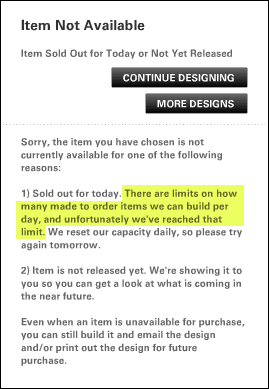 Eh? A non-specific error message? According to the message, the item is either unreleased (which I know is not true since I just saw it in person) or, whoa, they "reached their made-to-order limit for the day"???
What?
I don't even know what that means. Why wouldn't you just put my order in queue and manufacture it as soon as you can find the requisite child-laborers to build it?
So instead of putting my order through and shipping it to me when it's ready, Nike instead gives me three options:
1. Try again tomorrow when they've "reset their capacity"?
2. Email the design to someone… presumably with the accompanying note "Hey, look at what I can't order from Nike!"
3. Print the design out so I can hang it on my wall and be reminded of how much I want it.
I just don't get it. I've been racking my brain trying to think of exactly why Nike would put such an error message up and I can really only think of one possibility: whoever designed the database and backend for this system built it so that it can literally only store X number of orders per day. This just seems ridiculous to me though as databases should theoretically hold an unlimited amount of data.
Any ideas?