BitTorrenting Tiger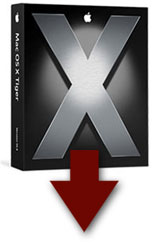 While playing poker last night, I was telling a friend from Microsoft how excited everyone is about the coming release of OS X 10.4 (Tiger). He asked me when it was coming out. I told him April 29th, but apparently it was already beginning to make its rounds on P2P networks.
To which his response was "Why didn't Apple just release it on P2P networks?"
To which my response was "How would they collect money from the sales then?"
To which his response was "Require activation."
To which my response was "Umm, yeah. I'd already have it by now then, wouldn't I?"
What a great idea. Distributing something like a song or a movie on P2P where you want people to voluntarily pay you a few bucks is a tough proposition because of the extra effort involved for the sake of a few bucks, but Tiger is $100-$130 and people are already planning on making the same payment to Apple or Amazon or whoever for a mailable copy of the OS, so what's the extra effort here? There isn't any. Combine that with the fact that by using BitTorrent, it wouldn't even cost Apple any bandwidth to distribute, and you have a winning proposition in my opinion. I'd gladly "activate" my copy of Tiger were it made available to me in this way. How many of you would?