sIFR 2.0 Is Almost Ready… Please Test
UPDATE: Version 2.0 is now available. See article here.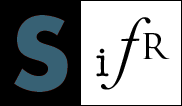 Alright, sIFR 2.0 is finally ready for release! Before Mark and I release it, however, we'd like sIFR developers to run through a short set of testcases over on the sIFR Wiki.
The testcases represent some of the more complicated things that are happening under the hood of sIFR and can be found here.
Since we've only added two small things (a tiny Opera tweak and the ability to show browser text while the sIFR text is loading), we don't anticipate any problems, but these testcases are meant to insure nothing was overlooked.
If you have a free minute, please run through the tests and let Mark or I know if you experience anything out of the ordinary. The whole suite should only take a minute. If every seems to work ok, please also feel free to post a comment on this page saying something like "Win XP/Flash 7 — Firefox 1.0, IE 6, all tests passed."
Many thanks, and sIFR 2.0 will follow within days.