Implicit Personalization on Tribe.net
I followed a link from PhotoMatt this morning over to Tribe.net and noticed a very cool feature they have over there: Upon visiting the front page, the site immediately redirected me to "seattle.tribe.net" and showed me information local to the Seattle area (where I live) even though I had never been there before and never entered any geographic information.
How cool.
A quick glance at the address bar told me exactly what what going on. The complete url is listed below: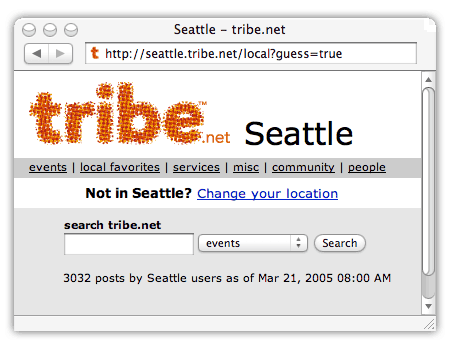 "Guess=true". Very nice. So what's happening is that Tribe is looking up my IP address in a table and mapping it to the Seattle area. We use IP lookup tables at Disney all the time for targeted advertising purposes, but I'd never seen someone actually use them to redirect you to a localized version of their site. I'm sure it's been done before, but I'd just never seen it.
One of the hardest things to do in the web business is to get users to actually use personalization options (as counterintuitive as that sounds), and by performing this first personalization step implicitly and automatically, Tribe provides users better information without forcing them to ask for it. Smart.