I Found Some of Your Life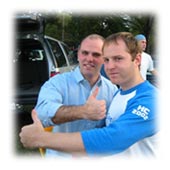 "Double Accidental Excellence / Awesomeness"A few times a year, you find something new on the web which you just know is going to get contagious. Today, via Phillip Torrone, I discovered such a thing.
Here it is in a nutshell: A few months ago, someone found a memory card in the back seat of a New York taxicab. The memory card was filled with 227 photos of some frat boy's life over the last year. Trips to Amsterdam, keggers, ridiculous mugshots… the whole bit. Rather than just deleting the memory card, this extraordinarily creative (and a bit diabolical) person started a blog and is posting one photo per day from the reel. This, by itself, would not be so entertaining, but in addition to posting the photos, the blogger narrates each photo pretending it is his own life with his own friends. What a great premise for a blog. Seriously, it's hilarious.
You could say that this is a mean thing to do, but really, can you think of a better way to get this person's photos back to them? I can't.
Check it out at: ifoundsomeofyourlife.blogspot.com.
UPDATE: On September 20th, the creator of this site pulled all content offline. I can only guess the cause was a scary e-mail from an armchair lawyer because the original memory card's owner doesn't seem to have stepped forward yet.