HTML Language Equals Javascript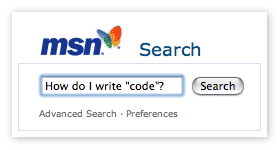 Today marked the launch of Microsoft's vaunted new MSN Search site. The new front-page design is so clean you could eat off it. With such a simple, spartan layout, you'd think the code would be museum-quality as well.
I am not one to bring out the firing squad for minor validation errors, but the very first line of MSN's search page is pure folly:
<html language="Javascript">
Yes. I'm not kidding. HTML language equals javascript. And English equals C++. It took the MSN Search team exactly 7 characters to mess this up. I guess that's what $100 million buys you these days.
Here is an archive link in case things have changed by the time you read this article.
If there was any doubt whether or not most major sites have caught the standards bug yet, the answer is clearly no. We love our MSNs and our Googles and our Yahoos but none have yet to exhibit any real effort with regard to designing with standards. As I've said in previous posts, it is more important to judge web sites on what they offer versus whether or not they validate, but spectacles like this show just how far some companies are from even making a decent effort. I will reserve overall judgment on the new MSN search site until I see how well it works for me, but this just doesn't look like a great start.
History says that regardless of user experience or code quality, the new MSN search site will be relatively "popular" once it's baked into every corner of the Windows environment. So the question is, with this power to pervade, does it really even matter how good the code is?