iPhone: SAND In Your Hand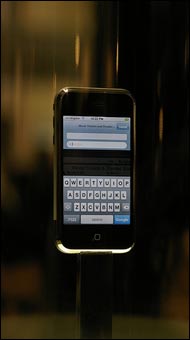 Back in the mid '80s, when Apple was getting ready to introduce the first Macintosh, the company gave advance peeks of the new machine and operating system to a few key software developers, one of them being Bill Gates. Gates and his pal Charles Simonyi weren't told the name of the machine for security reasons so they nicknamed it S.A.N.D., or "Steve's Amazing New Device".
It's interesting to think of that acronym today in light of the day's announcements because in 2007 terms, a computer is not generally referred to as a "device". A phone, however, is the epitome of a device… and that's exactly what we got today: Steve's Amazing New Device 2007.
In my mind, the iPhone is the second most exciting technology product announcement of my lifetime, after the original Mac in 1984. It is to phones what the Mac was to computers. Jobs mentioned the iPod as the second "revolution" between the Mac and the iPhone but I think both the Mac and the iPhone are much more significant. Music is great and all but the relative importance of the sorts of things you do on a computer and on a phone (now) are several orders of magnitude higher.
There are so many things to say about this iPhone that it's hard to know where to start. To me, the single most impressive thing about it is that, like a lot of Apple products but specifically this one, there is no other company in the world capable of inventing it. How many times do you see a new product come out and you think "Damn, I wish I would have thought of that!"
The iPhone is no such product.
You couldn't think of it, and even if you did, your finished product would be a godamned fingerpainting compared to this. It is so fulfilling to watch technology unfold like this, in the hands of the most indispensable and world-changing CEO of our lifetime. It makes all other work you may be doing in the technology world seem like peanuts.
When Apple says they are five years ahead of every other phone on the market with this offering, they are being conservative. If many of the 200 patent applications filed in association with this phone are accepted, there is no opportunity to copycat. If a multi-touch interface turns out to be the panacea of the mobile device input problem, then what are other handset manufacturers to do while they are prevented from implementing it on their own? I mean seriously, how would you like to work at Palm, Motorola, Samsung, or LG right now? Those guys must feel like a nuclear bomb hit them.

So what's my favorite feature of the phone so far? Without a doubt, it's gotta be OS X. I was fully expecting WebKit to be a huge part of this phone, but a mini version of the entire OS? There's no limit to what can be done with this device… including push IMAP email! I sure hope that part of their deal with Cingular is to abolish the command-and-control mentality of preventing users from installing things openly on their devices. I want to be able to install not only my own Dashboard widgets but my own apps.
I also love the little touches like the accelerometer which shuts off the touchscreen when you bring the device to your face and the threaded SMS conversations which resemble iChat.
What are my concerns? Well, really only three things. One, the thing looks really easy to scratch/break/damage. Apple has made several devices in the past which have suffered from extreme scratchability, like the first gen Nanos, and this seems dangerously delicate for a cell phone. Two, no removable battery means you could theoretically run out of juice while watching a video and not be able to make an important call afterwards. Picture being on a long flight. And finally, perhaps the most important concern is the Cingular aspect. In Seattle, Cingular's reputation is dead last among carriers, and hence I'm not thrilled about having to make the switch. Their data plans in particular would be considered rape in some states. I understand Apple's need to do a deal with a carrier and I trust their judgement in picking Cingular, but it's a shame T-Mobile didn't slide in there instead.
The Cingular concern, though, underscores just how exciting this device is. I mean, the phone is $599 with a two year contract from a carrier I don't particularly like, I have to break my existing contract and pawn off my existing expensive Treo, but I'm still chomping at the bit to get on board. Additionally, this is a first gen phone I know will be updated within a year, but again, it is of no consequence. Apple has built the ultimate lust device and it's hard to be anything but thrilled with prospect of owning it.
Last but not least, the iPhone is sweet validation against those who railed against the article I wrote two and a half years ago entitled All Hail The iPhone. "People don't want their music player and phone integrated" some said. "You'll ruin the iPod experience if you add phone functionality to it" others claimed. Yes people do, and no Apple didn't.
That was 2004, when everyone and their mom doubted both Apple's ability and their desire to make such a device. This is 2007, when Apple once again proved all doubters wrong.
2008? That's when you forget you ever doubted the thing in the first place.