"Guaranteed in Stock" Debunked
I swear, I was *just* about to write a really positive post about Blockbuster Video's New "Total Access" program (which I think is totally great and I will definitely try), but upon visiting a Blockbuster location this evening, I ran into another episode of Blockbuster ridiculousness I had to post about.
You see, Blockbuster has this promotion called "Guaranteed In Stock!", which leads consumers to believe something along the lines of "If you come to a Blockbuster store for a really popular movie, we'll have it in stock… guaranteed." They even back it up by proclaiming that if it *isn't* in stock, you get to rent it for free as soon as copies become available.
So you can imagine my surprise when I saw the display below at my local store: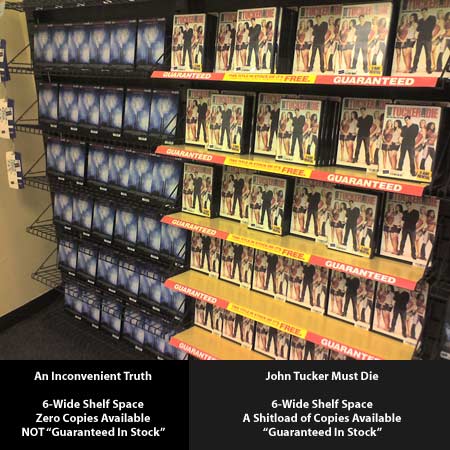 What's that? Two identical shelves, both 6-wide and 6-tall. On the left is Al Gore's popular new documentary "An Inconvenient Truth". On the right is a movie I've never even heard of called "John Tucker Must Die". There are at least 40 copies of the obscure Tucker thing available and exactly ZERO copies of An Inconvenient Truth. And guess which one is "Guaranteed In Stock!"? Tucker, baby!
Seeing this display made me immediately suspicious of Blockbuster so I approached an employee about the situation:
Me: "I noticed that 'Josh Tucker Will Die' is guaranteed In stock and 'An Inconvenient Truth' is not… and yet, they both have the same amount of shelf space."
Blockbuster Employee: "Yes, that is correct."
Me: "So, you guys didn't just remove the 'Guaranteed In Stock' thingie from 'An Inconvenient Truth' because it was inconveniently out of stock?"
Blockbuster Employee: "No. The only movies that are 'Guaranteed In Stock' are the ones which we order a certain number of. I think it's 200."
Me: "Ok… so the 'Guaranteedness' of Blockbuster movies has more to do with how many of them you order than how popular they may be?"
Blockbuster Employee: "Yep."
Me: "Interesting. I'll take Crash then."
So the good news is that there's nothing nefarious going on here. The bad news, however, is that Blockbuster still seems to be out of touch with its customer base. If you want to instill in me the trust that a popular movie *I want to see* is going to be in stock, then just make sure it's in stock. Hopefully Total Access helps get this company back on track. It's probably their last chance to crush Netflix.