MacWorld 2005: The Good, The Bad, and The Ugly

Twice a year, Apple fans like me take the first half of the workday off to watch the semi-annual ritual that is Steve Jobs' MacWorld Expo keynote speech. When Apple is nice, they provide a live Quicktime feed for us to get our drool on. When they are cruel, they provide no video and force us to watch text-based accounts provided by the nice folks at MacNN, Engadget, MacMinute, and others. Either way though, we eventually get what we're after: a first glance at what's coming out of Cupertino this year.
UPDATE: The archived keynote is now available here.
I thought this year's announcements were quite good and filled with several things to be excited about, but at the same time, I feel Apple is still behind the game with regards to a few lines of business they should be in. Let's talk about the good, the bad, and the ugly.

First, the good
The Mac Mini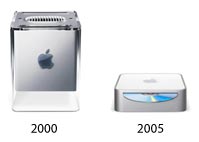 What a diminutive little piece of genius. I was telling some friends a couple of weeks ago that I thought the new headless iMac would be the second-coming of the G4 Cube, and looking at the Mac Mini, it does sort of remind me of the Cube. It's noticeably smaller than a traditional computer, it's very quiet, it's not as fast as other Macs, and it's extremely well-designed. The key differences, however, are market-segment and price. The only real complaint people had about the Cube was something along the lines of "Why would I spend $1600 on this when I can get a PowerMac for the same price?" Well, that concern is completely out the window with the Mac Mini's $499 price tag. It's dramatically cheaper than any other Mac in Apple's product line (even the eMac) and it's clearly aimed at people who aren't already using iMacs or PowerMacs.
Part of the genius of this machine is that I don't want one. I'm a professional designer and lifelong Mac user and I'm perfectly fine with my 12″ PowerBook and 20″ iMac. And if I did a lot of video work, I'd be fine with a PowerMac. In other words, this extremely low-margin Mac Mini should not eat up any profits from higher-end Mac sales that were already going to happen. This Mac is aimed at potential OS switchers, and we all know how many of those are out there. How many times have you heard someone say something to the effect of "I love my iPod but I just don't want to plunk down a grand or two to switch operating systems." Part of Apple's goal in getting the iPod and iTunes interface in front of Windows users was to get them comfortable with Apple's interfaces. The next logical step is to get them comfortable with Apple's prices, and the Mac Mini accomplishes exactly this.
Some people will question Apple's decision not to include a monitor, mouse, and keyboard, but it's the sticker that talks, folks. The full-page ads in the New York Times and Newsweek magazine need that big "$499" number or else they lose their effectiveness. Most people already have monitors they can re-use. Same thing with keyboards. And as for the mouse, were you really going to use that piece-of-shit one-button job anyway?
The bottomline is that this is a great product with a very low margin. It will not directly boost Apple's profits much, but it should have a noticeably positive effect on their market share.
The iPod Shuffle

Finally, an iPod I could see myself buying. The original iPod and iPod Mini are great little devices, as is evidenced by their sales and cult status, but I simply never needed one because I play all my music on my Treo 600. The Treo is about the same size as an iPod and provides me 1000 times more functionality, so there really was never a single compelling reason for me to carry two devices. Additionally, with removable 1 GB SD cards, my supply of music for the Treo is endless.
The one thing I can't do with my Treo is strap it to my shoulder and go jogging with it. Well, I actually could do that but I'd look like a fool. I am already a bit foolish looking when I jog, so the Treo is pretty much out of the question. But a tiny iPod that looks and feels like a stick of gum? Gangbusters! Sign me up.
Unlike the Mac Mini, however, I do see the iPod Shuffle stealing away some sales from the existing product line. But you know what? Apple does not make a whole lot of money selling iPods. It is one of their lowest-margin products, in fact. For Apple, the iPod is all about mindshare. Do they make a couple of bucks off it? Sure. But it's more about getting people comfortable with the Apple brand and getting them onto OS X and the iTunes Music Store. So I'd say if Apple is making $10-$20 off each iPod shuffle they sell, they won't be worried about lost iPod and iPod Mini sales. It's total sales they care about now (both with iPods and Macs), so in that regard, this product will be a boon.
For me, the iPod Shuffle is important in that it's so small that it can't and shouldn't be integrated with a PDA/phone… whereas the iPod and iPod Mini should (and will be). With a phone or PDA, you necessarily must have a certain amount of space with which to interact with the device. With a music player, you need only a few buttons.
iWork
There's not a lot to talk about here until I actually use the product, but Apple appears to have put the one thing in this product that they've been missing since the beginning of time: Microsoft Word compatibility.
Simply put, any office productivity tool is not worth its weight in silicon if it can't play nice with Word. "Pages" which is the word-processing part of iWork claims to be 100% compatible with Word, and for this reason, I will give it a fair shot. I want it to work. I actually think Mac Office is the best piece of software Microsoft has ever designed, but hey, if Apple can eliminate the 90% of things in Mac Office which I don't use with the benefit of making it simpler, I'm all for it. "Pages" appears to also have some Pagemaker-like abilities, but I'm not holding my breath. It's certainly not going to be strong enough to fit into a professional design workflow but could it help your dad put together his Fraternal Order of the Elks newsletter? Possibly.
The other piece of iWork is an updated version of Keynote. I've never been a big fan of using presentation aids like PowerPoint and Keynote, but I did give the first version of Keynote a try, and although it was slick, it definitely felt like a 1.0 product. Severely lacking in functionality. This version seems to address the functionality gap.
The Apple/Motorola iTunes Phone
A lot of people would put this in the "Bad" section, but I wouldn't. While I agree with Russell Beattie that this isn't the iPhone, it's clearly a major step towards it. Am I underwhelmed at the "Appleness" of this first device? Absolutely. But if you told me a year ago that Apple would be getting their software onto mobile phones, I'd have been ecstatic. I've been on record since July (before any Motorola partnership was announced) saying that Apple is developing their own mobile communications device, and this Motorola/iTunes phone is just an evolutionary step towards that device. Apple is learning about phone interfaces, cellular standards like GSM and CDMA, and what it takes to make the ultimate personal communicator. It won't be long now until companies like Samsung and Sony will be offering phones with high capacity music players built-in, and Apple knows that this will dry up the standalone iPod market pretty quickly. For more views and opinions on Apple's foray into the phone market, check out my original post "All Hail the iPhone".
iLife
Not much to say here, but the new iDVD is an improvement. Apple has proclaimed 2005 to be "The Year of High Def" so they've built HD capabilities into even their low-end software. This is a good thing.
OS X 10.4 – Tiger
Best. OS. Ever. Period.
And now, the bad
QuickTime
QuickTime has been around longer than any other major video architecture and yet it's improved the least in the last five years. What used to be the industry-standard for movie trailers and just about every other video clip on the web has now been marginalized into a niche player. It's great for video compositing and that's about it these days. Windows Media 9 provides better quality at web-level bitrates and Flash provides more ubiquity. I personally don't encode any video for the web in Quicktime format anymore because there's really no reason to.
Apple touted Quicktime 7's new support for 24 channels of sound. Are people actually asking for that? 24 channels? How about concentrating instead on the area where Windows Media is whooping the competition's ass: digital rights management. I know nobody likes DRM but the fact is that content developers are beginning to make encoding decisions based largely on DRM issues. For instance, if Disney wanted to release a full-length movie for digital download, it wouldn't even be possible with Quicktime because we couldn't protect it. Windows Media 9 offers content protection through DRM, and hence, it's the only game in town. Love it or hate it, video DRM is a very important issue right now in the content space, and Apple doesn't seem to have paid a lot of attention to it yet. Maybe they are working on it… I don't know. One thing I do know is that I can't remember the last time I was truly impressed with a QuickTime update.
PowerBooks
It seems the rumors of speedbumped PowerBooks turned out not to be true. This is obviously a bad thing, but I'm sure new models are close at hand.
And finally, the ugly
Lack of a Media Center strategy
When the fake photos of the iHome surfaced late last week, I had a brief moment of ecstasy. It was the same sort of feeling you get when you open the perfect present during the holidays. Upon a few minutes of inspection, however, it was easy to tell the iHome photos were not real, and I sunk back to earth. I love Steve Jobs because he loves computers. I hate Steve Jobs because he hates TV. While Microsoft is investing a small amount of their cashpile in developing the rapidly-improving Media Center platform, Apple has steadfastly refused to even acknowledge that there can be a valuable connection between the television and the computer.
I've had a DirecTivo for over two years and I absolutely love it. It's one of the best pieces of technology I've ever purchased, and given my addiction to reality TV, it's as big a part of my "digital lifestyle" as any Mac I've ever owned. I thought I'd be using my Tivo forever, but then Media Center 2005 came out. Boy is it nice. Wait, it's from Microsoft. Let me repeat: boy is it nice. The interface is slick, I can rip shows to disk with one click, it supports HD, and it's fully expandable.
HELLO APPLE, WHEREFORE ARTE THOU?!?!?!
You say you are the "digital lifestyle company" and yet you won't address one of my primary digital lifestyle needs? You force me to consider invasive hacks like this just to record HD on my Mac? I have $1500 sitting in my pocket waiting to spend on a Media Mac… come take it… please. I know you think TV is evil, but porn is allegedly evil too, and your computers help people watch it. Get over your religious disregard for television and fill the obvious market need for what I'm proposing.
My vision for the Media Mac is as follows:
Stackable stereo component form-factor
Two HD tuners and two SD tuners
10-foot interface built on top of OS X but separate from OS X's 2-foot UI
Apps are limited to the guide, 10-foot iTunes, and 10-foot iPhoto
Unit would act as your PVR, your digital music jukebox, and your photo album
Sling-like functionality to beam your TV signal over IP to any location
Is that so difficult? It's all already being done… just not by Apple. When you have 6 billion dollars in the bank, I'd argue that it is your responsibility to investors to be researching and developing in areas such as this. Might it fail? Sure. But the opportunity is huge, and by not even attempting to capitalize on it, you are failing already. If worst comes to worst, just purchase a controlling interest in Tivo… 51% of the company would only cost you $170 million as of today's closing price. Two great brands… both technology leaders, both on the PowerPC/Unix platform. What am I missing here?
No licensing of FairPlay
Apple appears to be making the same mistake with iPods as they did with Macs in the '80s. They have a huge market share lead on the hardware side, and instead of leveraging that advantage into a software lead, they are concentrating on gaining a 100% hardware market share. Here is a quote from the speech via Engadget:
"iPod market share is at 65 percent, Flash-based player share is at 29%, and wannabes are at 6 percent. We'd like to go after the remaining 29%."
It doesn't get any clearer than that. Why oh why does Apple think that every music player in the world will be manufactured by them? We saw with the rise of Wintel in the '80s and '90s that even if you have the best hardware, you're not necessarily going to win that race. With Microsoft's emerging "Plays for Sure" initiative and the thousands of upcoming devices that will support WMA, I think Apple is living a dream if they think the iPod's market share isn't due for a steep decline. The smart (dare I say "Microsoft") thing to do would be to dominate the software and commerce side of things instead. License FairPlay DRM to any device manufacturer who wanted to support it, and collect a few bucks for every device sold. Continue to push the iTunes Music Store as the preferred way to get music. Continue to sell iPods. As long as the iPod is still the best device out there, people will continue to buy it. And you know what? Even if they buy another device, Apple still makes money.
I sure hope Apple is working such a strategy, but I'm just not getting that vibe. I feel like the iPod is the source of a lot of blinding cockiness in Cupertino right now, and I can only hope that someone wakes up before it's too late.
In closing….
Thanks, Apple, for another great Expo which has made us applaud you and second-guess you at the same time. Only time will tell how good the Expo really was, but it sure was entertaining.
As always.