ESPN.com Seeks Creative Director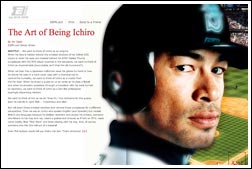 This just in: ESPN is looking to fill a very high-profile web position — Creative Director, ESPN.com. You heard it here first. Yes, that's right… a chance to set the design standards for the largest sports site on the web and continue to blaze the trails ESPN has been blazing since the original days of ESPNet SportsZone back in the mid '90s.
I'm not going to post a long description of the job since the position more or less sells itself, but I will say that this is a great opportunity to work with some very talented people on some very exciting projects. The position is out of the main ESPN headquarters in Bristol, Connecticut and is only suitable for a candidate with a wealth of experience managing design teams as well as a killer portfolio. Experience managing the design of high-traffic web properties is a huge plus as well.
Anyway, I don't work at ESPN anymore but I've volunteered to post the position on this site in hopes that either a Mike Industries reader or a friend of a Mike Industries reader might be the right person for the job. If you (or someone you know) think you might have the right stuff, drop me a line through the contact form and I'll see what I can do. I can't answer many specific questions about the job but I can help shepherd the process along a bit. Any e-mails should include at the very least a URL where some of your work can be viewed.