How to Permanently Prevent OS X 10.7 Lion from ever Re-Opening Apps After a Restart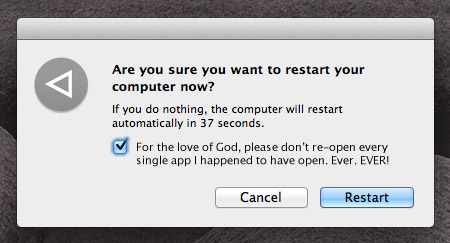 While the latest version of Mac OS X, Lion, is generally wonderful, there is one "feature" that annoys thousands of people to no end: whenever your machine is restarted, every single application you happen to have open at the time is also relaunched and restored to the state it was in before you restarted. If you restart manually via the "Restart…" menu item, there is a checkbox you can uncheck which is supposed to shut off this behavior but it doesn't always work. Additionally, if your computer restarts for any other reason — e.g. a power failure or a crash — you don't even have the option of trying to prevent this behavior.
The downside of the behavior is obvious: it increases the time it takes to start up your machine into a steady state and it re-opens apps you may not be using anymore.
If you want to prevent this behavior entirely, there is now a foolproof, fully reversible way to do it. Simply:
Quit all of your apps.
Navigate to here: ~/Library/Preferences/ByHost/com.apple.loginwindow.*.plist (whereby * is a bunch of characters)
Click the file, do a File > Get Info (or command-I if you're a pro), and lock it using the Locked checkbox.
Voila. You've now prevented Lion from saving what apps and windows are open. To reverse this setting, simply unlock the file!
Another helpful hint as well: Lion, by default, hides your ~/Library/ folder. To make it visible again without showing all of your other invisible files, simply open up Terminal and type:
chflags nohidden ~/Library/