LazyWeb Request: iPhone Power Miser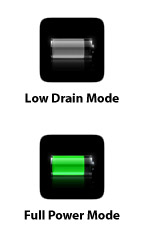 Given how pathetic the new iPhone 3G's battery life is, and given that Apple recommends you essentially castrate your device in order to get more hours out of it, I have an idea for an app that would make the castration process both quicker and easily reversible:
An app that sits on your home screen and does nothing but turn a set of things on and off.
The app doesn't even need to launch. Press it once and Bluetooth, Wifi, 3G, Location Services, and Push email all turn on. Press it again and they all turn off. Simple. Perhaps there are even three states to the button where the middle state is configurable.
With the above app, the process of going from power-sucking battery-hog to power-conserving battery-miser would take one-click.
Without the above app, here's what it takes:
Click on Settings
Click on wifi
Slide wifi slider to off
Click on Settings Back button
Click on Fetch New Data
Slide Push slider to off
Click on Settings Back button
Click on General
Slide Location Services slider to off
Click on Bluetooth
Slide Bluetooth slider to off
Click on General Back button
Click on Network
Slide Enable 3G slider to off
Click Home button to get back to main screen
15 steps! That is crazy.
I wouldn't even might having my iPhone in conserve mode 90% of the time if it were easy to switch out on demand, but it isn't. I'm not sure if iPhone developers have access to system settings like this, but if they do, this would make a great app. If not, it would also make a great app… Apple!