Captive Audience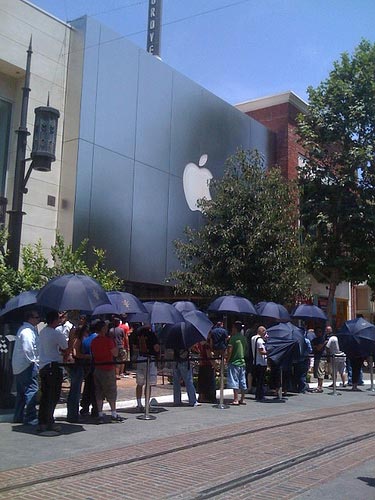 A full month after the release of the iPhone 3G, I still see lines of people outside of Apple Stores around Seattle waiting to get their hands on one. Although the new, lengthy activation process is a waste of time for customers, it sure is good advertising for Apple. Having lines out front of your store tends to make passers by curious, and curiosity often leads to attraction.
After two weeks with my iPhone 3G, however, I must admit that I'm not as happy as I was with the original iPhone. In fact, if my original iPhone didn't have an annoyingly quiet earpiece and speakerphone (should have gotten it replaced during the one year warranty period), I probably would have returned the 3G model or not even upgraded to it in the first place.
Now, granted the original iPhone set probably the highest bar for any electronic device I've ever owned, but here is what is maddening about the 3G version:
Battery, battery, battery. When Steve Jobs mentioned a year ago that battery life was keeping Apple from releasing a 3G version, he wasn't kidding. Unfortunately, they released one anyway, and now even people like me who use a measly 5-20 minutes of talk time a day can barely go sunup to sundown on a single charge. It's crippling and it's frankly embarrassing, in my opinion.
In order to mitigate the battery life issue, I have now turned off Location Services, Push email, wifi, and Bluetooth, as well as dimming the screen. It's kind of like buying a Porsche and replacing the engine with a Hyundai to get better gas mileage. Pretty ridiculous.
The 3G AT&T plans are more expensive, which sucks, but at least one can rationalize the data part by remembering that you are getting faster speeds. However, what explains 1500 text messages going from $6 to $15 a month??? Text messages? Ten cents a message as part of a plan is highway robbery. And considering most people won't hit 1500 on the dot, it often times ends up being much more per message than that.
The shape of the phone has changed ever so subtly such that I can't even use my original iPhone dock with it. Apple doesn't include a dock with the iPhone 3G and charges $30 for their new "compatible" dock. This is an especially low blow.
In my mind, neither the white model nor the black model look as nice as the old silver model and I don't consider plastic an upgrade over metal.
Location Services takes quite a long time to triangulate your location and often doesn't work. I guess since I was forced to turn it off, I shouldn't really care anyway.
I live near downtown Seattle and a good portion of the time, I'm still on Edge.
There's a $18 "upgrade" fee for no apparent reason to switch phones.
In the end, I'd be willing to overlook every item on that list if it weren't for the battery life issue. I'm not opposed to charging my phone every single night but when you have to think about charging it even during the day, that's just poor product planning. I'd gladly accept an extra few millimeters in thickness if it meant a 50% bigger battery.
So in closing, I would say that if you already have a first generation iPhone you're happy with, by all means stick with it. When the iPhone 3G Rev B comes out in several months and sports an acceptable battery, you'll be happy you're not stuck with the "old" 3G model.
Don't fall into the early adopter trap with this particular product release. Sometimes we Apple fanboys are such a captive audience that we ignore the flaws of the items we purchase. And by sometimes, I of course mean always.