SSSS Equals No SXSW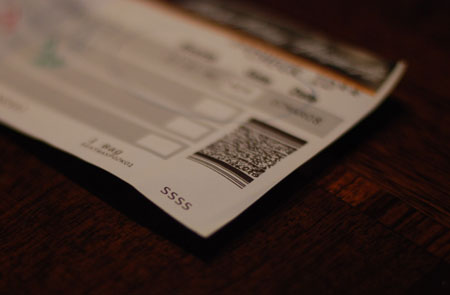 Ever wonder why sometimes, airport security personnel (TSA) ask you for your boarding pass immediately after you pass through the metal detector, considering that you just showed your pass to a TSA agent right before you got to the detector lines? Furthermore, do you ever wonder why some people get comprehensive searches and others don't? Well today I got a tough lesson in security and airport incompetence which has caused me to finally give up and cancel my trip to Austin for SXSW.
First, some quick background.
Tom Watson, Jeff Croft, Ben Tesch, and I were supposed to fly to Austin via Dallas yesterday. I had instant status alerts set up through one of my new favorite sites FlightStats.com and made sure everything was A-OK before leaving for the airport. After checking into my flight and waiting near the gate, however, the entire thing got cancelled due to snow in Dallas.
American Airlines couldn't get me on any other flights that day so they put me on an Alaska flight through San Jose for the following day (today). Fair enough. Weather shit happens. I get that.
Here is where it starts to get absurd though.
So, Tom, Ben, and I show up today a full 90 minutes before our flight, we check in, we go through security, and then at 12:50pm, five minutes after boarding has begun, we try to board. The person at the gate scans my ticket and says:
"Sorry sir. You need to go back through security. You need to get back on the train to the main terminal and tap a TSA agent on the shoulder and show them your boarding pass."
I say:
"What??? Why? My friends too?"
She says:
"Yes, so sorry. Hurry."
So we motor back to security and the clearly embarrassed TSA guy we grab runs all of our bags back through the x-ray machine, gives us the full wand treatment (no body cavity treatment, thank god), and eventually stamps us all with a special green stamp and says we're good to go.
We motor back to the gate, and even though it's 10 minutes before takeoff, Alaska Airlines has decided to close their doors to the airplane and we have now missed our flight, with no other alternative flights on the horizon.
As we'll see in a moment, this entire episode wasn't exactly Alaska's fault, but I find it disappointing that they couldn't have accommodated this situation, knowing they had just told us to motor down to security really quick.
SO…
On our way back to ticketing, I decided to stop by the security area again and pepper the TSA guy with questions about what just happened and who's fault it was. Here is what I found out:
1. We had special "SSSS" designations on our boarding passes. Whenever you have an "SSSS" in the corner of your boarding pass (you'll see this as soon as the pass is printed), it means you'll have to go through extra security with the wand treatment and full bag search. I did a Google search for "SSSS" before posting this entry to make sure I'm not giving terrorists any secret information, but it's apparently already been publicized.
2. Whenever a flight of yours gets canceled and they put you on another airline, you will get the SSSS designation on your new boarding pass. Be prepared for extra security when this happens.
3. What caused this particular problem is that the TSA agent who checked our IDs and boarding passes before we got to security missed the SSSS lettering (for all three of us) and therefore neglected to tell us to go to the special line to get the full treatment and the special stamp.
My assumption is that the reason they sometimes check your stuff again as you go through the detector is for this very circumstance. It's a quick doublecheck in case the first guy is too lazy to notice the SSSS. Unfortunately for us this fine Friday, the first guy screwed up, there was nobody there to cover his ass, and therefore — very avoidably this time — our flight was effectively cancelled for us.
So having had my plans foiled for two days now, I'm bailing on Austin. Jeff, Ben, and Tom are all taking various redeyes so they'll be there, but I'm an old man so I'm giving up. If you're there, please have some sort of shot for me (Jager is preferred). Please tag all shot photos "shots-for-miked". I appreciate it.
There are actually two more hours in the airport to this story, but I'll condense the details into just one more paragraph:
Number one, my bags are still on their way to Austin. Number two, as I was trying to get my ticket refunded, both American Airlines and Alaska Airlines insisted that I was already on the plane. About ten agent-to-agent phone calls were made, and ten times, I heard the phrase "He's standing right here in front of me" (ostensibly in response to the question "How do you *know* he's not on the plane?"). Once Alaska was convinced I was indeed not already in transit and that a flight attendant had messed up the headcount before takeoff, the wheels were put in motion to turn the plane around and land it back at SeaTac. Apparently they have to do this whenever an inaccurate headcount is uncovered. I pleaded with them that it was just me and that they shouldn't screw over an entire airborne plane full of passengers for this, and in the end they didn't. An hour after that, I got my ticket refunded and I'm back at home.
Somebody just doesn't want me to get to Austin this year… and I'm actually perfectly okay with that.