RAM Arbitrage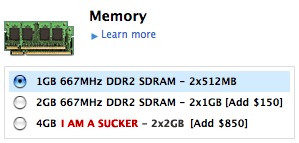 So I finally bucked up and ordered a black MacBook yesterday. It seems like Intel Macs have been out for 10 years now, but this will actually be the very first Intel-based Mac I've ever used. I tend not to upgrade computers more than once every couple of years, and the product cycle just happened to dictate the purchase of PowerPC iMacs in the office two years ago and a PowerPC 12-inch Powerbook around the same time.
In configuring this MacBook at the online Apple Store, it struck me how much Apple *still* charges for RAM, and gets away with. This is not a new phenomenon as it's been happening for many, many years, but the total cost difference between Apple-installed RAM and third-party RAM now stands at a whopping $730 for 4GB of RAM! Note that they are both third-party products, from a manufacturing standpoint.
In other words, to max out my MacBook's RAM, Apple charges me $850, while if I go through my trusty RAM comparison shopping site DealRam, I am pointed to NewEgg, which ships me the same amount of RAM for $120. As a point of comparison, Dell charges $465 for an extra 4GB… still outrageous, but not a 700% markup!
That is just astounding to me. Surely I'm missing something, but is there another store in the world that charges over $800 for a product that can be had for under $150? And I don't want to hear any arguments about quality of RAM either. If you happen to get some bad RAM, you can always exchange it (note: I've gotten bad RAM from Apple before too… it can fail no matter who makes it).
I suppose I can't actually be mad about this since Apple makes it perfectly possible for informed consumers to buy their own RAM, but at these prices, I would love the ability to save an additional $150 (Apple's price for one 1GB stick) by having my MacBook ship with no RAM whatsoever.