Most Profitable Web 2.0 Business: Conferences
The tech conference business continues to amaze me. I just received an email a few minutes ago from the organizers of the annual Web 2.0 Conference in San Francisco telling me I am a V.I.P. and I can attend their conference under this special classification. Sweet! I'm thinking free admission, maybe hotel and airfare too. Something like that.
In reading the rest of the email, it appears I'm being offered the V.I.P. rate of JUST OVER THREE THOUSAND DOLLARS. And that's $500 off the Very-Unimportant-Person rate!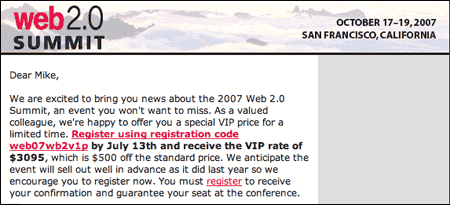 Who has the enthusiasm to pay these sorts of prices? Even when I worked at Disney, a multi-billion dollar corporation, I would never even dream of taking $3000 out of the budget for an event like this.
Nothing against the conference… I'm sure it's great. I just can't think of a single conference I'd pay over a $1000 for (and even that is expensive) unless part of the deal was a personal dinner with Steve Jobs, Richard Branson, and Gisele Bundchen.
In a way, I guess these sorts of conferences are like business travel for airlines. They figure since companies are footing the bill, the price elasticity of demand is low.
As for me, I'd rather spend that $3k on any of the following:
One week trip anywhere in the world (with a decent budget!)
Husky season tickets for both basketball and football
A donation to a charitable cause.
I guess you can't blame the organizers of the conference for charging $3000 because clearly people are willing to pay it, but if you really want individuals showing up at conferences, it would seem that Techcrunch20 or unconferences would be the better routes.
Oh well… off to go plan my first conference I guess. I'm thinking "Fortune 100 Giselefest 2007".