The Old Twenty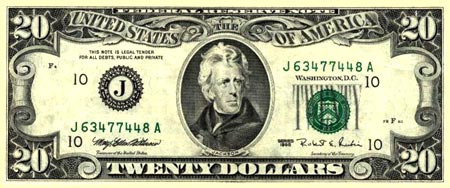 I stopped by my local pizza joint tonight to grab a lazy dinner, and upon getting to the counter I noticed that I had five ones and one twenty.
The tab was $7.30 so the obvious choice would be to whip out the twenty, which I did. Upon holding this Jackson in my hand though, I remembered it wasn't just any Jackson. It was a pre-1998 redesign Jackson. 1969 in fact.
I'd had this beauty in my wallet for a couple of weeks and tried not to spend it — although I knew I eventually would unless it was put into safe keeping. Such a beautiful bill… clearly superior in every way to the new rubbish.
My head told me I was the only person in the restaurant who would care about such a thing.
Inhale. Exhale. I handed the bill unceremoniously to girl behind the counter.
"Oh wow! An old twenty! I'm SO keeping this!" she said to my surprise as she plucked a modern twenty from her own wallet and made the exchange.
"I'm glad it's going to someone who appreciates it," I said as I watched her show it off to the other employees.
After relinquishing the twenty, I realized that it had been probably two or so years since I'd seen one… and I pay with cash a lot. I wonder what that says about the shelf-life and geographic distribution of paper currency in our country. I'd love to see some studies on this.
UPDATE: Kottke, the master of interesting cultural trivia, is up-to-date on this and has detailed info.