Security By Sexiness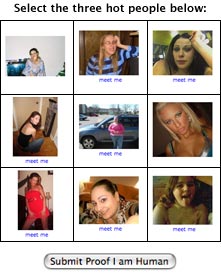 Via Valleywag comes word of an interesting technology implementation called the "Hot Captcha". A "captcha" is essentially a test you perform in a web browser to prove you're human. Its purpose is to keep automated bots from creating registrations and wreaking havoc on websites.
Typical captchas ask you to type a series of letters from a distorted image, answer a simple question, or perform mouse actions on objects. Users generally don't like dealing with captchas because they require brainpower and sometimes trial-and-error, and there is no immediate pleasure gained from using them.
Enter the Hot Captcha from a fellow calling himself "frozenbear". The Hot Captcha pulls photos of 9 women or 9 men using the open API from HotOrNot.com and asks you to select the three "hot" people from the group. The chances of picking the correct answer randomly are only 1 in 84 and you could bump that to 1 in 220 if you added a row, so the false positive rate would be extremely low.
What's interesting to me is how effective this captcha test is, at least from my 20 or so tests. With these things, it's not only important to make sure humans can easily pass the test but that computers cannot, and I honestly can't imagine how a computer could programmatically determine the "hotness" of a photo. And what's extra nice is that since you're clicking on photos of attractive women or men, you could argue that this captcha may be the first ever that could be considered "fun" to use.
Interestingly, when I switched over to the "men" version, my accuracy went down from 100% to about 25%. I bet this effect would happen to a lot of men but not a lot of women. In other words, it seems to me that both women and men could easily identify "hot" women, while only men would struggle to identify "hot" men. Perhaps it's because the physical traits that make men "hot" seem less obvious than the corresponding traits in women.
I wonder if this captcha could also be used as a reliable, surreptitious gender test for incoming visitors. As the operator of a social site which gives users lots of control, I've often thought to myself "If I could just tell for sure you were a female when you signed up, I'd probably give you 'trusted' status right away". I say this not as a "ladies night" type of thing, but because the majority of evil-doers on the internet (e.g. spammers, network marketers, general assholes) seem to be men.
Though probably meant more as a joke than anything else, the Hot Captcha shows yet another function that the human brain is surprisingly efficient and consistent with that computers may never be able to match.