Introducing swfIR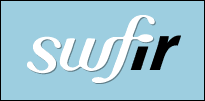 I'm a rule breaker… and when other people break rules in the name of good design, I stand up and applaud.
That is why, I'm happy to point Mike Industries readers to a new creation by Messrs Dan Mall, Jon Aldinger, and Mark Huot: swfIR.
"But I already have a swfIR!", you say. "I use it to shine my beautiful linoleum floors."
This swfIR isn't a disposable mop, though. It's a new Flash replacement technique in the tradition of sIFR. While sIFR uses Flash to replace boring browser text with interesting custom-rendered Flash text, swfIR uses Flash to replace boring browser images with more interesting custom-rendered Flash images. So instead of settling for plain, rectangular jpegs and gifs, you can now apply borders, rounded corners, shadows, opacity, and more to your images… dynamically, without having to edit your images or muddy up your beautiful code.
Flash for images?
I can hear screams coming from the ivory towers where the validatorians and standardistas live. I like those screams. I live for those screams. I will sleep well tonight with thoughts of prettier imagery on the web.