Oh, Minty Day!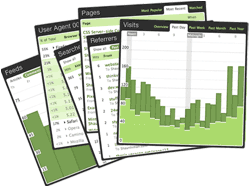 A few minutes ago, The Wolf released version 2.0 of his highly successful and highly awesome stat package, Mint.
I've been beta testing it for several months now. It's good. You should get it.
(Shaun also launched a new version of Shauninman.com because the paint was starting to dry on the "old" one, but we'll ignore that for now.)
The Wolf has also figured out something Alan Greenspan never could: how to buck inflation. The price of Mint is still $30 and existing users can upgrade for a mere Jackson.
Anyway, that's it. It's a nice upgrade. My only beef is that the interface is de-Mint-ified a bit by default, but by throwing this hack at the end of your /mint/app/styles/vanilla_mint/style.css file, you can get green again:
/* BEGIN RETURN TO MINTYNESS */
.display table.striped tr.alt td,
.display table.visits table.striped tr.alt td
{
background-color: #F0F7E2;
border-top: 1px solid #E7F0D0;
border-bottom: 1px solid #E7F0D0;
}
.display table tr:hover td,
.display table.visits td tr:hover td
{
background-color: #F0F7E2;
}
.display table.striped tr:hover td,
.display table.visits table.striped tr:hover td,
.display table.striped tr.alt:hover td,
.display table.visits table.striped tr.alt:hover td
{
background-color: #cde9a7;
}
/* END RETURN TO MINTYNESS */
At the request of Chris, here is a sample of what the mod looks like: