sIFR 3 Beta Is Here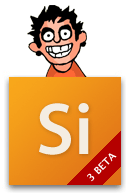 Just in time for the holidays, the Dutch Wolf has posted the first official beta of the brand new version of sIFR! sIFR 3 is chock full of great new features that are sure to bring out your inner typography genius, and because Flash is now owned by Adobe, we've even created an unimaginative new icon for it! :)
Some highlights of sIFR 3 include:
Much easier implementation with no need for font tuning anymore.
Constant font sizing with no more fuzzy logic used to determine actual type size.
Smoother anti-aliasing and better readability via Flash 8/9's Saffron rendering engine.
Ability to use Flash's text effects such as shadowing.
sIFR now renders on-demand instead of after everything else has loaded, making for a much quicker viewing experience.
… and a whole lot more.
So head on over to the Dutch Wolf's place and check out the new beta for yourself. The quicker we can all help squash any remaining bugs, the quicker an official sIFR 3.0 implementation can be released.