Airplane Seat Etiquette
render(); ?>
You know the feeling. The plane has just reached cruising altitude, you're about to whip out your laptop, and bam… the person in front of you reclines their seat all the way back and effectively reduces your personal space by about 20%. I'd estimate it only happens to me on maybe one out of every five flights, but when it does, it can really ruin the chance to get any work done.
This weekend, on an Alaska Airlines flight back from the Future of Web Apps conference, I found myself in an extremely tight row and the guy in front of me reclined his seat all the way back before the plane had even finished its climb. Great. This was a sub two-hour flight and it wasn't even at night so why the need to assume the position like this? I lowered my tray and placed my compact 12-inch Powerbook on it thinking I could at least get some work done, but upon opening the lid, I found that it was physically impossible to place the laptop in any open position and type on it at the same time. This is a tiny laptop and it was hanging halfway off the front of the tray and into my abdomen. Unbelievable. I know I've been in a similar situation before and it wasn't this bad so I assume Alaska has eliminated some legroom or I was just in a really bad row. The distance from the front of my headrest to the back of the other person's headrest was only about 20 inches.
The situation continued to irritate me throughout the flight. The guy in front of me was even leaning forward for most of the flight! His only saving grace was that he looked a little bit like Stan. I actually pretended he was Stan for the duration of the flight in order to reduce my anger towards him.
Other things I did during the flight:
Used my tray as a drumset for a minute
Issued random kneejerks into the seatback just to interrupt his train of thought, whatever it was
Whipped out my camera and took a few pictures (with the autofocus assist light on "high") from right above his head
(Update: Yes, yes, I know this doesn't really help the situation.)
All in all, I'm not sure any of this had much effect, but it really got me thinking about proper airplane seat etiquette. I personally only recline my seat under two circumstances:
If the flight is over 5 or 6 hours and the person behind me isn't Jeff Veen or Tom Watson size
If there is nobody or a small child behind me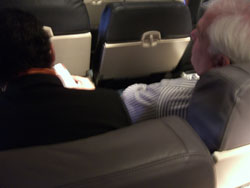 Old guy (right): leaning back with the seat upright… good. Jason Santa Maria lookalike (left): leaning forward with the seat reclined… bad.In other words, I only recline my seat if it does me a material amount of good and it doesn't do anyone else a material amount of bad. I had a debate in the office with someone else about this and he felt the opposite. He said "when someone in front of me reclines, I recline also". To me, this is like child abuse. Someone else does it to you so you just continue the cycle of abuse. Bad.
I suppose the ideal thing to do would be to just ask the person in front of you to kindly move their seat back upright, but as average sized 5′ 11″ guy, what are my grounds for expecting this courtesy?
In the midst of my ruminations, I remembered a product I'd heard about several years ago which actually prevents airplane seats from reclining: The Knee Defender. I remember thinking at the time that it seemed like kind of an inconsiderate device to use, but I'm changing my attitude about that now. I'm buying one, although I will only use it on appropriately short flights and only if I'm in a tight row. There are really only two drawbacks to the device as I see it:
They must be applied with the tray down and before any reclining takes place (wouldn't have worked on my flight because the Stan lookalike was so trigger happy with his recline button).
They are kind of conspicuous so the flight attendants might notice and the people next to you might give you weird looks and/or think you're a jerk.
What is everyone else's policy towards seat reclining? Am I alone in my conscious restraint of the recline button?
Interesting note: On the Knee Defender page, there is a quote from the Washington Post that says "If the guy won't compromise, whip out your Knee Defender." I don't see how this would work since the attempted "compromise" would appear to occur after the seat is already reclined and thus not subject to the Knee Defender. C'mon Washington Post… do some actual reporting! :)