Sizing Up A Grill
It's about a month into grilling season here in Seattle, and after an unappetizing experience with MatchLight "Easy Lighting" (viz. "Soaked With Fuel") Charcoal the other day, I finally decided to go out and get a proper gas grill for my deck. A couple of weeks ago, I had spotted an unusually cool clam-shaped barbecue at my friend Stephanie's house so I decided to look it up on the interwebs.
After a few minutes, I determined it was one of the "Weber Q Series" grills. The problem was, there were three sizes and I had no idea which would be ideal. Luckily, Weber put together this extremely helpful diagram on their spec page: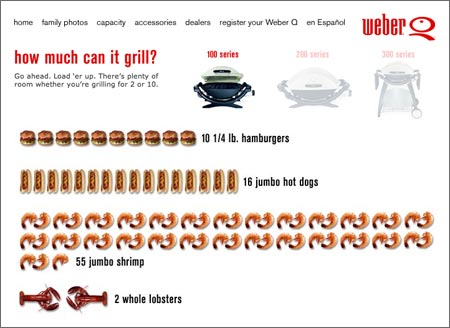 Now that is some great information design. I don't care if the grill is X inches by Y inches. I don't care if it's "small", "medium", or "large". I just care what I can grill on it. Weber's diagram tells me I can cook 10 hamburgers, 16 hot dogs, 55 shrimp, or 2 lobsters on it, and that's all I need in order to determine that the 100 Series is big enough for me (I ended up getting the 120… it has flaps).
Anyway, great grill so far. I definitely recommend it. It's small enough to throw in the back seat of your car as well so you can take it down to the beach or wherever you need to heat up tasty foodstuffs.