Can You Buy a Community?
I wasn't going to say anything about Jason Calacanis' announcement today that he was looking to buy Newsvine's, Digg's, and Reddit's top link seeders for a thousand bucks a pop, but the fine folks at Reddit said it with zero words better than I ever could (note the logo):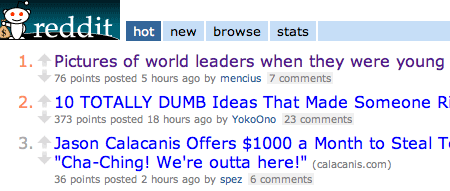 It's an interesting experiment for sure: whether you can take a user base of 12 million that isn't a community in any way, pull their aging but comfortable portal out from under them, pay a bunch of users from other sites to entertain them, and then get them injected into a new community before they decide to go elsewhere. It hasn't caught on yet, and I imagine that 99% of Netscape's current user base has yet to vote on a single article, but it's still very early in the game.
People like to point to Digg as a model that has clearly worked, and they are thus far correct, but one important thing to keep in mind is that other models may work as well and perhaps even better. There will never be only one winner in the community-driven news world. There will be many, and each will bring their own philosophy and style to the table. Our philosophy at Newsvine is to provide the best news reading, news writing, news gathering, and news debate possible. We're only four months into our public launch and still have miles to go, but big companies trying to buy our best contributors isn't what keeps us up at night… it's continuing to evolve, continuing to innovate, and continuing to respond to what our community is telling us they want.