Dave Chappelle on Newsvine!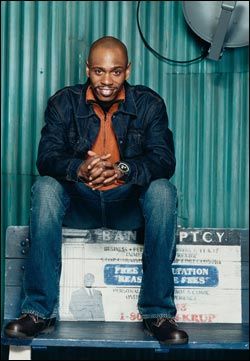 Something happened on Newsvine's opening day that really validated to us where this whole project is going. It had nothing to do with the traffic, the kind reviews, or the reports about us being acquired. It was a simple post by Newsvine member Corey Spring.
Corey is a senior at Thee Ohio State University, and when he's not partying it up with the Buckeye coeds, he works at the local college TV station. It so happens that Corey was invited to Dayton, Ohio for the premiere of Dave Chappelle's new movie "Block Party".
Corey somehow managed to steal Chappelle away for a few minutes and conducted an impromptu interview with him. Then he posted the interview to Newsvine, tagged it accordingly, and bam, an exclusive Dave Chappelle interview for the world to see.
It doesn't stop there though. Immediately upon posting, the Newsvine Doppelganger™ kicked in and automatically added a link to an Associated Press story from that same day about Dave Chappelle's dispute with Comedy Central. So now the AP story is linked from the bottom of Corey's interview, and Corey's interview is linked from the bottom of the AP story.
Some hard-core citizen journalist types have asked us why we use Associated Press stories at all. There are hundreds of reasons, but this is a perfect example. You can read that Dave Chappelle AP story on many other popular news sites, but only on Newsvine would you spontaneously discover Corey's interview in the course of reading it. That is pretty magical to me. People have also questioned whether "citizens" are qualified, in general, to be journalists. Well this is a textbook example of the concept in action. Journalism doesn't always mean investigating scandals in the White House. Sometimes it's simply about distilling stories from everyday life.
Make sure to head on over to Corey's column and add him to your watchlist today. As soon as we turn on support for audio, polls, and other rich elements, these sorts of interviews will only get better.
Some other people to watch as well:
Carl Howe — Carl is considered by many as the Dean of the Vine, posting well-organized thoughts about marketing, technology, and where new media is going.
John Strubel — Exclusive interviews from Major League Baseball Spring Training and other excellent sports-related commentary.
The Anna Log — Benevolent lightning rod and perpetual catalyst for interesting political discussions on the Vine.
Mike Dojc — Sports and entertainment news from a guy who knows his stuff. Mike's written for Maxim, Nike, The Toronto Star and many other properties.
Gary Goldhammer — Gary unique perspectives on the direction of new media come from 17 years of experience in journalism, public relations, and marketing.
Dave Sheldon — Dave's day job as an ESPN Hockey analyst and play-by-play guy gives him an inside perspective into the sports world.
Salam Pax — Salam is known to many as "that famous Iraqi blogger" for his excellent first-hand reporting during the Iraqi invasion.