Newsvine: First Day Traffic, Reviews, and More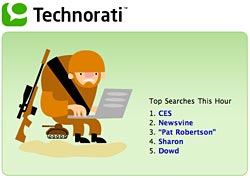 Friday was Newsvine's first full day in widespread private use, and I'm happy to say that we hit 104,655 page views right off the bat. I don't ever remember making any predictions about what traffic would be like, but I certainly didn't expect six digits on day one… especially considering you need an invite, a login, and a password to get in.
Newsvine was also the #2 search term on Technorati all day yesterday, ahead of subjects like Ariel Sharon and Apple. C'mon people! It's just a news site! Ariel Sharon's stroke is a world event and Apple is about to release a music player that will keep you alive forever and get rid of your wrinkles! Anyway, we thank everyone for the interest.
It's still way too early to gauge the success of this community, but so far so good. We've managed to create enthusiasm, interest, and a platform for participation with an extremely low cost footprint. No launch parties, no advertising, no PR, no Aeron chairs, and no frivolous spending. Well, that's not true actually. We did spend about $50 per person on a parasailing field trip a few months ago.
Here are a few great in-depth reviews to read (complete with screenshots), if you're so inclined:
Many other reviews abound, but the aforementioned three contain a good amount of screenshots and depth, so start there.
So, onto the next subject: Newsvine vs. Digg. Also known as Newsvine vs. Slashdot. Also known as Newsvine vs. Reddit. Also known as Newsvine vs. Any-Tech-Site-That-Allows-User-Participation.

I want to make clear that we don't consider sites like Digg our competition. We love Digg. They get my vote for 2005 Site Of The Year, in fact. Actually, Mail Order Chickens might be my true #1, but Digg is at least #2.
But the fact of the matter is that getting 200,000 early adopter tech-saavy, tag-saavy people using the site on a daily basis is not the ultimate goal. The ultimate goal is improving the overall news-consuming and news-producing experience for your mom, your dad, and the hundreds of millions of people in the world who think sites like USAToday.com are the best they can hope for. When you spent a lot of time on blogs, in your RSS reader, or on popular tech sites like Slashdot, you forget how large of a percentage of the world is not half as tech saavy as you.
It seems like everyone is hip to RSS these days, right? No way. Not even close. You and your friends are hip to RSS, but none of your parents are. I don't have any stats on this, but I also imagine that males who use RSS outnumber females by huge margins.
A large mission of Newsvine is to make terms like "RSS" and "OPML" disappear while allowing their benefits to to remain. By "disappear", I don't mean "go away". We have plenty of feeds on the Vine. What I mean is, you should be able to get the functionality of RSS without necessarily being exposed to it. Here's an example:
Ever try to explain to a newbie how to subscribe to a feed? It goes something like this:
Visit <this page> full of newsreaders and download one of them. They are all different, but each has its own benefits. Some are free and some cost money.
Double-click the newsreader to install it.

(Believe it or not… the process stops in its tracks right here sometimes).

Now, whenever you are on a page on the web, try and find a little orange button that says "XML" or "RSS".
Click the right mouse button (PC) or control-click (Mac) on the little button and choose "Copy This Link".
Now, launch your Newsreader (it may be in your Start menu or on your desktop) and find the "Add Feed" menu item or something similar.
Paste the URL you just copied into the text field and your feed is now added!
Always make sure to keep your newsreader open so you can get updates.
When you see a new item come in, click it and it will open your browser and take you to the associated web page.
Obviously, RSS saavy people have no problems following directions like these, but do you know how many people don't even know what a web browser is? I'm serious. To a lot of people, getting on the internet is not a question of "launching your web browser". It's a question of "Clicking the blue E that says 'The Internet'".
So here's what that same set of instructions would look like on Newsvine:
Whenever you'd like to keep track of a certain author or topic you happen to be reading on Newsvine, click the big green "WATCH" button in the upper left corner of the screen. Every time a new article comes in from that author or topic, it will appear in "Your Watchlist" on the left side of the screen.
Bam. Done.
Yes I know we're not talking apples to apples here, but you get the point. Give normal people an easy way to get more out of the news, and they will take you up on it.
We've specifically designed Newsvine so that you can point and click your way through the news without using a single advanced feature if you don't want to. The idea is to ease into the site at your own pace. Start by reading the news. Then maybe start filling up your Watchlist. Then a few weeks later, leave a comment or two. Then maybe chat. Then have a look at your column and start seeding articles. Then figure out tags. Then write a full-fledged article. It can all be done at your own pace and that's the appeal of it.
There's a whole universe of people out there who want more from their news but don't know how to get it. Our goal is to ease people away from the one-way model they are used to and into the two-way model that blog-saavy people have been hip to from the start.
Thanks again for everyone's interest in Newsvine, and you can look forward to many more feature additions soon!