iPod Giveaway #7: Design a Steve Jobs Movie Poster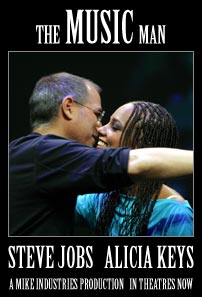 Original photo by Norbert Ivanek.Ok, so it's the day after Christmas and you didn't get that iPod you wanted. Now's your opportunity to take matters into your own hands and win one.
The theme of the final Mike Industries iPod Creativity Competition of 2005 is to design a movie poster featuring Steve Jobs. Like all competitions before it, the rules here are loose. Just feature the man we all know and love in a cinematic role, keep your image exactly 418 pixels wide, and insert your entry inline in the comments of this post. Please also give photo credit when appropriate.
There's a decent chance The Steve will actually see this blog entry so please keep it clean and respectful. Anything overtly offensive will be removed.
This competition will remain open for exactly two weeks and will end at midnight, Sunday, January 8th. The winner will receive a 1GB iPod Shuffle from me, and so will Mike B., the genius who suggested this particular contest.
Remember to keep your images exactly 418 pixels wide (any height is fine) and under about 50k or so in file size. Insert your image into the comments below using code like so:
<img src="http://yoururl.jpg" />