Unstealth! Get Ready For Newsvine…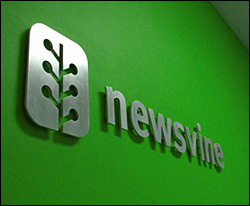 This morning, news broke that our new company, Newsvine, is about to hatch. Remember that name.
Newsvine.
You'll be hearing it a lot over the next year.
First things first. I apologize to all Mike Industries readers for keeping this a secret, but I'm a firm believer in the theory that you should never talk about anything until you have something to show. In the next week or so, we'll be opening up the gates with a private beta, and shortly after that, Newsvine.com will launch free to the world.
So what is it, and why did four perfectly happy Disney/ESPN employees leave their jobs to build it?
Just like your favorite news site, only smarter
Newsvine is a large-scale news media site which gives you almost all the same stories you read on sites like MSNBC and CNN but presents them in a much more attractive package. Attractive not just in looks but in function as well. At Newsvine, we feel strongly that an article's life only begins the second it is published. It is only when readers interact with it that it achieves its full impact.
You just read an Associated Press story about the fiery riots in France on a major news site. Why shouldn't you be able to comment on it like you would on a blog entry? At Newsvine you can. Why shouldn't you be able to chat about it with whoever else happens to be reading the story at the same time? At Newsvine you can… right within the story itself.
We believe in turning news into conversation, and every page on Newsvine.com is designed to do precisely that.
So even though at launch, Newsvine will have almost all the same stories the biggest news sites have, how can we possibly replace the great exclusive reporting that outfits like ESPN, The New York Times, and The Washington Post produce?
We can't. And we don't want to.
Seeding The Vine
Companies like ESPN are terrific at providing the sort of in-depth coverage of sporting events that no one else in the world can. They are experts and spectacular at what they do. For that reason, we want to point you to ESPN.com (and any other site for that matter) whenever there is a great article to be read over there.
We do this via a process we call "Seeding Newsvine".
Simply save our "Seed Newsvine" button (a bookmarklet) to your browser and click it whenever you read a great story anywhere on the web. Tag it with words to describe it (e.g. "alex-rodriguez, baseball, world-series") and a link to the original story, along with your comment, will automatically appear at the following pages:
newsvine.com/alex-rodriguez
newsvine.com/baseball
newsvine.com/world-series
… which brings me to one of my favorite features of Newsvine: our URL structure. Anytime you want news on any subject, say "supreme-court", simply go to newsvine.com/supreme-court and every story we have that is tagged as such will be there.
Oh and we also have local news available at urls like "seattle.newsvine.com" and "newyork.newsvine.com".
How does it all stay organized?
Newsvine is five people, and we are all quite busy adding features to the site. There is no editor behind a desk deciding what stories are most important. You decide that. Whenever you see a story on Newsvine you think is important, simply click the "Vote" button next to the headline and you've just increased the importance score of that story. We feel that thousands of people are better at deciding what's important than one, and that's a major founding premise of Newsvine.
Oh, there's just one more thing…
Since Newsvine is essentially produced by its readers, it is only fitting that its readers may also become writers. Anyone can sign up for a free Newsvine account and begin writing their column within minutes. Anytime you write an article or Seed Newsvine with a link to another article, it will appear in your column (at "yourname.newsvine.com") and elsewhere around the site, depending on how it's tagged.
Getting your own column on Newsvine isn't only free but you'll also keep advertising earnings associated with traffic to your pages. While other companies charge you for your own space to write or keep all the ad revenue themselves, we're happy to help you make money whenever you add value to Newsvine.
Newsvine is a news company, not a Web 2.0 company
Our site doesn't rely on Ajax, RSS, Wikis, or any of the other technologies you may be hearing about way too often these days. If you'd like to use some of the fancier aspects of our site like tagging or feeds, go ahead, but even with no knowledge beyond standard pointing and clicking, Newsvine is a best of breed news site. In other words, even your pappy can use it.
If you'd like to be in on the private beta or be notified when Newsvine launches, head on over and give us your deets!
Newsvine is funded by Seattle-based Second Avenue Partners with original ESPN.com CEO Mike Slade and Aquantive founder Nick Hanauer on the company's Board of Directors.
UPDATE:
To everyone who has asked, yes, Newsvine.com was the secret domain from
this article
I wrote several months ago. The story can now be told. :) Also, traffic seems to really be blowing up today. Here are just a few mentions of Newsvine from around the web: