Bloglines Gets Key Commands, Hijacks Browsers
UPDATE: Ben Lowery of Bloglines has not only responded promptly in the comments below, but now both problems are fixed. The "unread" display is now also exactly as I suggested. Kudos to Ben and Bloglines! Much better!
I'm a huge Bloglines fan and have used it as my only newsreader for almost two years now. It's a smart product created by an even smarter person, Mark Fletcher. Almost every single feature Bloglines has added since launch has been implemented with the utmost of care and has improved my experience on the site incrementally. Yesterday, however, the site added two features which are in need of fixing. In their announcement about the feature additions, Bloglines asked users to express their thoughts about the changes publicly, so that's what I'm doing.
Problem #1: Keyboard Shortcut Hijacking
I didn't even know this was possible, but somehow, the addition of keyboard shortcuts to Bloglines has completely disabled system-level shortcuts in my browser. Bloglines, probably in reaction to Google's new shortcut-heavy newsreader, has added all sorts of key commands to help users navigate through their feeds. Unfortunately, now I can't hit Command-W to close my browser window. Nor can I hit Command-Q to quit or Command-T to open a new tab. It took me awhile to figure out what was going on, but it's definitely Bloglines because if I'm not on a Bloglines page, the key-commands begin working again.
My first reaction was that although this is obviously caused by Bloglines, it's a bug in Safari that it's even possible for a site to cause such a crippling. But then I switched over to Firefox and the same thing happened! What the hell! Any key-command gurus know what's going on here? And is this happening on PCs too? It's very very weird. I've never seen a web page that can cripple a browser like this.
Problem #2: Unread vs. Keep New
As part of the feature upgrade, Bloglines added something I've been wishing for a long time they had: the ability to differentiate between items that are truly unread vs. items I've specifically indicated to keep as unread. The difference here being that the latter are news items I've specifically noted as important, but I just haven't had the time to go through them yet.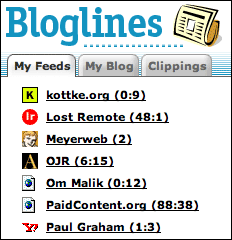 So the good news is that this feature has been added. Yay. The bad news is that the interface for it is not intuitive and it's already annoying me. To the right is a diagram of the current implementation. Notice that some entries have one number and others have two separated by a colon.
Take the Kottke example. "0:9" means that there are 0 items I haven't read and 9 items that I've specifically indicated deserve further review when I find a moment. Other entries, like Meyerweb, have only one number. The "2" means simply that there are two unread items. These numbers change wildly from month to month from me. Sometimes a site like Kottke will have zero "keep new" items and Meyerweb will have four… it just depends on where I'm at in my neurotic newsreading cycle.
The problem with this interface is a subtle one: First of all, colons imply either "time" or a "ratio"… neither of which apply in any helpful way to this situation. Second of all, there's no intuitive clue as to whether the first number means "unread" and the second number means "keep new" or vice versa. Bloglines is forcing users to develop this association over time and it's just not very helpful to do that.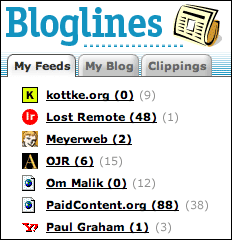 To the right is what I propose. Notice the lack of colons. Notice also that the "unread" number is the only number in bold… thus more closely mirroring what Bloglines users are already used to: bold equals unread. The "keep new" number is set in light gray and unbolded to help you establish a quick connection that it represents a totally different thing. Furthermore, it mirrors the mail application analogy that what you haven't read is bold and everything else isn't.
So anyway, that's my two cents about the Bloglines update. Please address these two issues and I'll continue to sing your praises as the best way to consume RSS on the web.