iPod Giveaway #5: The Great Unknowns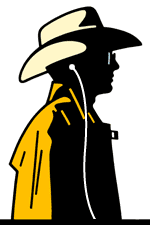 Original illustration by Michael Schwab.For the 5th Monthly Mike Industries iPod-A-Month Creativity Competition, we're going to keep it extremely simple. So simple, in fact, that you aren't even the one who has to be creative. The winner of this competition will be the person who posts the best site I've never seen in the comments.
If you have a site you'd like to nominate, by all means do, but please no self-promotion whatsoever. If all goes well, we'll have a nice little page full of inspiration by the time everyone's done.
Here are the rules:
Post the URL on the first line. If you can write a lick of HTML, try to link it properly. Here's how —
<a href="http://www.theurlofthesite.com">Site Title</a>
Post an explanation of exactly one sentence or one word (or none at all). Anything more than one sentence will be disqualified.
On or around midnight on the last day of August , I will close the contest and pick my five favorites.
I will then post the five favorites, and using the new Mike Industries Polling System, I'll put it up for a vote. Most votes wins.
* One entry per person only. Multiple entries will be disqualified and overtly offensive material removed. Multiple entries are also considered overtly offensive.
As always, the winner will receive a brand new iPod Shuffle from me and a pair of $150 Etymotic ER-6i earbuds from iLounge. iPod fans might also want to check out iLounge's free iPod Book as well.
Good luck, and you can't tell me it gets any easier than this!
Helpful hint: If the site you submit requires 20 minutes of time just to figure out what's going on, I probably won't get past the first minute.
RULE CLARIFICATION: You can post something you've worked on, but anything that leads overtly back to you (like submitting your blog or portfolio) will be considered self-promotion and disqualified. Many thanks… great entries so far!
UPDATE: I'm shortening the entry period to Monday, August 22nd to keep the list at something close to a manageable level.