A List Apart Redesigns, Makes Me Weep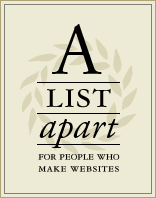 A List Apart, the venerable online periodical for web people, has quite possibly just pulled off the perfect redesign.
Everything is great. Nothing is bad. Click here to see the wickedness.
Favorite design touch: The hover underlines which disappear in the middle of the center-stacked text.
Favorite new feature: Adjustable color palettes for different issues.
Congratulations to Jeffrey Zeldman, Jason Santa Maria, Eric Meyer, Dan Benjamin, Kevin Cornell, Erin Kissane, and team on a great piece of work.
*Prediction: A center-stacked headline mini-boom begins today.