On MouseOut…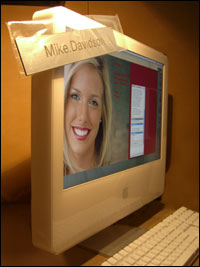 In an amusing twist of irony, my nameplate (pictured above) arrived last week, 4.5 years after I first ordered it.It is with both sadness and anticipation that I announce my departure from The Walt Disney Internet Group after four and a half years of employment. It's been a great half-decade here and I can't thank The Walt Disney Company enough for giving me the opportunity to work on such high-profile projects with such high-caliber people. In my time here, I've helped lead the standards-based redesigns of ESPN.com, ABCNews.com, and many other Disney-owned properties, as well as play a hands-on role in the design and development of all-new technologies like ESPN Motion, and countless unannounced products still in the pipeline. I owe all pride from working on said projects to the incredible teams of people across the company in Seattle, North Hollywood, New York, Connecticut, Orlando, England, and Japan who continue to make it all possible.
That said, I'm moving on.
So why would someone give up a six-figure job that they love, working for a company that they love, in a city that they love?
Two words: Opportunity Cost.
There's something big I want to build, and now is the time to build it. I'm not going to say any more because I'm leery of getting caught in the hype machine, but you can expect a launch later this year. Watch this space for details as they become available.
As for blogging on Mike Industries, it'll be business as usual for now. The iPod contests will continue (of course!), and my posting frequency should remain steady at several posts per month. Additionally, if I've turned you down for an interview or speaking engagement in the past, feel free to ask again as I no longer have a PR department to deal with. Disney's policy required me to refuse almost all such requests in the past, so it's nice not to have that restriction anymore.
And so with that, I begin anew on something I'm very excited about. If all goes well, it'll grow like a Vine.
MouseOver. MouseOut.