7.2 Megapixels In Your Pocket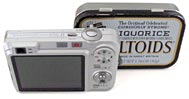 When I think of Casio, I think mainly of the dorky calculator watches which kept all women a safe distance from me during my teenage years. "Kryptomack" watches are what we call them now.
So when I first heard about the Casio EX-Z750 digital camera, I naturally assumed it was some low-end throwaway device trying to fill the void between the VGA cameraphone and the high-end digital SLR.
Oh my was I wrong. Casio is back, baby. In a big way.
I picked up one of these babies for $379 about a week ago after reading reviews here, here, and here, and I have to say that in my opinion, this is the best all-around camera on the market. I won't go over every single aspect of the camera since the reviews above are quite comprehensive in that regard, but allow me to spell out my top five raves:
There is no perceptible shutter lag whatsoever. Official tests have it rated anywhere from 0.0017 seconds to 0.18 seconds, but in reality, it feels like zero. One of the major reasons a lot of people shy away from digital ultracompacts is that they can't stand pushing the shutter button and having the camera take a second or so to actually take the shot, but this Casio is the first device to completely eliminate that issue. Other new cameras like the Canon SD500 are getting faster now too, but the Casio is the fastest.
This camera is the size of an Altoids tin. My previous camera, the Pentax Optio S4, actually fit snugly inside of an Altoids tin, which was nice, but this one isn't much bigger. Taking great photos these days is all about having a camera in the right place at the right time, and at this size, you really have no excuse not to have it with you at all times.
Unlike most ultracompacts, the EX-Z750 allows you to enter shutter priority mode, aperture priority mode, or full manual mode. Want to keep the shutter open for 60 seconds? No problem. Although the F-stop range obviously isn't quite as wide as a huge DSLR, it certainly offers almost as much overall configurability.
This camera amazingly takes crystal-clear 640×480 MPEG4 video. At the highest quality setting, I can take 34 minutes of full-frame 29.97 fps video. At the next setting, about an hour. And at the lowest setting, over 3 hours! The quality is really quite shocking, as you'll see from the sample video below. One of the coolest things about the video capabilities, however, is what people have been calling "Tivo-mode". In this mode, I can keep pointing the camera for however long I wish and when I hit the shutter button, the camera begins recording from 5 seconds in the past. You can imagine how useful this is when you're at an event and you want to catch the action but you're not sure exactly when that may be. Why waste recording time when nothing is happening? Probably the only downside of the Casio's movie recording capabilities is that the files come out as .avi files which you must then convert to QuickTime with something like ffmpegx. Or if you use a PC, you probably don't care.
Interface, interface, interface. This is the easiest-to-use camera I've ever operated.
Talk is cheap, so I'll close with a photo sample and a video sample, taken yesterday on a bike ride to Pike Place Market. Pardon the shaky hands on the video please… I just had a mocha and was holding the camera with one hand.
UPDATE:
The AVI video codec which allows for native playback in Quicktime is now out!
Download it here
and throw it into your /Library/Quicktime/ folder.