You're on Google News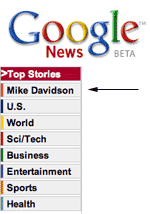 I'm sure this will be all over the net tomorrow, but Google News just launched customization about 5 minutes ago. I saw it flicker on about an hour ago and then disappear so it's possible there was a quick bug that cropped up, but it's back on now.
Very very interesting. I like Google News quite a bit, but the one thing that's always been severely missing is customization. With the launch of this new feature today, you can add, remove, rearrange, or even create your own topic for inclusion as a standard news module on the front page. Go ahead, add yourself as a topic. See what happens. The system doesn't seem to support phrases yet, but my article from Monday on expired domain snatching showed up number one in the "Mike Davidson" section.
Not bad.
The ability to create and track your own news topics isn't anything Google invented, as you can do the same with customized RSS feeds on PubSub and Technorati but the way Google presents it is a bit novel. By giving user-generated topics equal treatment on the front page as most of the mainstream news, Google News is fully appreciating the individuality of its users. Most news sites, if they offer customization at all, will program at least 80% of the page themselves while offering a tiny customized module somewhere off to the side, but Google knows it's not in the business of editorializing content, so it merely steps aside and lets you do the producing. I like that.
I don't think this new feature makes Google News anywhere close to the perfect news site yet, but it's a step in the right direction, and perhaps a good way to get people who don't use newsreaders to better appreciate the power of customization.

On an unrelated note: I didn't want to dedicate an entire post to this but I'm going to be down in Austin this Friday through Tuesday for SXSW. If anyone is interested in typography, Joshua Darden, The Wolf, and I will be speaking on the "Typography for the Screen" panel at 10am on Tuesday morning. If you're not still passed out from the night before, come on down. The first 100 people in the door get a free copy of Arial (includes Arial Bold).