The Saltine Challenge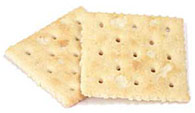 While on business at our New York offices a couple of weeks ago, I was introduced to a peculiar competition known as "The Saltine Challenge". Apparently this has been around for quite awhile but I'd never heard of it. In a nutshell, one must ingest 6 Saltine crackers in 60 seconds without the help of water or any other digestive lubricants. The crackers must also be of the salted variety. Seems quite easy… that's what I thought.
With a small crowd of onlookers, I tried and failed badly on the first attempt. The second attempt was a failure as well. Not even close. I managed to get all 6 decently chewed, but there were still two full crackers worth of dough when the minute mark passed.
So I went back to Seattle thinking, as I was told, that less than 1 in 10 people can accomplish this. Not wanting to give up, however, I sent out an all-office e-mail summoning Saltines from all corners of the building for use in further testing. I administered the Challenge to four more people, and sure enough, everyone failed. Before giving up, I decided to give it one more try using a special chunking strategy that my co-worker in New York had mentioned in passing, and lo and behold, I did it! Six down the hatch!
Just to see if this feat was repeatable, I tried three more times over the next three days and lowered my time in each trial. Could seven be next? Absolutely. After all, if six Saltines was a great bar trick in itself, seven would bring the house down. Sure enough, I did seven on my first try yesterday.
And now a day later, I've officially reached the addiction stage.
I've already tried eight twice today and although I failed both times, 70 seconds was all it took to get everything down. It's definitely within reach and I'm not stopping until I achieve this dietary milestone.
Has anybody else tried this? Care to post your results?
UPDATE: Chunking strategy revealed!
UPDATE #2: 8 Saltines accomplished!