Ten Things I Learned in Texas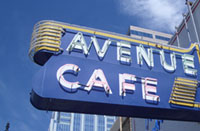 I just got back from the SXSW Interactive Conference in Austin and here is what I learned:
Austin might as well be its own state. I haven't traveled around Texas much but I can't imagine the rest of it is anything like Austin. In order to preserve the overwhelmingly positive opinion I have of Texas right now, I don't plan on going anywhere else in the state.
You don't know Joe Clark until you've met Joe Clark. Joe's communication style is full of nuance and levity, but when it takes the form of typed words you've never put a voice to, the subtlety can get lost. Now that I've met Joe and seen how nice a person he is, I have that much more respect for what he does. Joe is also a human captioning machine… see next point for more on this.
The interest in web typography is even greater than I figured. Joshua Darden, Shaun Inman, and I hosted the Typography for the Screen panel and it couldn't have been at a worse time: 10am on the last day of the conference and opposite Jon Hicks, Doug Bowman, Dave Shea, Jon Allsopp, and Eris Free talking about The Web in 2010. I joked all week with people that I'd rather go to that panel than my own. Lo and behold, our panel packed the house. It was standing room only and people were sitting on the floor as well. I won't pretend to know how well we did, but the crowd was engaged in the discussion, and we did manage to get an unsolicited ringing endorsement from Joe Clark on sIFR. Joe was also nice enough to blog the hell out of the session with a comprehensive account of our panel. He must have been a court stenographer in a past life because I've never seen anyone type that fast.
The whole world is going to Macs. SXSW was not a particularly designcentric conference and yet probably about 8 out of every 10 laptops there was a Mac. In fact, out of all the speakers I saw on stage during the four day conference, only one, Jason Calacanis, had a PC. Calacanis went on a silly rant against Apple and its lawyers, urging people to buy PCs instead, but from the looks of the crowd, I don't think anyone was listening.
2005 is indeed the next 1997. The amount of energy and entrepreneurial spirit around SXSW reminded me a lot of when I worked for an upstart young dotcom in the late '90s. Everyone is doing new things. Photo sharing, podcasting, blogging, social networking… it doesn't matter. There is a sense of newness and optimism on the web right now and you can see it all over people's faces.
Derek Featherstone knows some very entertaining drinking tricks. I'd never seen someone stick a half-full pint glass to their chin before. I'd also never seen anyone create water vapor in their lungs and release it through their nose. Very impressive stuff. Derek represents.
Slip-ons are here to stay. Prompted by Dan Cederholm's post several months ago, I bought a pair of slip-on Eccos earlier this year and am pretty sure I won't be going back to shoelaces anytime soon. I'm usually not one to notice shoes on people, but there certainly were a ton of slip-ons and sandals at SXSW. Are laces becoming obsolete? I think they might be.
The web community gets along remarkably well in person. It's easy to get lost in all the long distance pedantic web disputes sometimes (divs vs. tables, strict validation vs. best practices, XHTML vs. HTML) but put everyone in the same room and the mutual respect quickly bubbles to the surface. We talked a lot of shop, even at the bars, but it was less about my method vs. your method, and more about what we're all doing to move the web forward.
Del.icio.us is the best way to run your linkblog. I flew back to Seattle with Matt May of the W3C who showed me how to use a cron job to pull the last 10 del.icio.us bookmarks into my linkblog automatically. It's a nice little trick and it was just the impetus I needed to get on the del.icio.us train already.
SXSW is the most well-rounded interactive conference around. I've spoken at several other conferences around the country but one thing that has always bugged me about them is that it's generally one type of person who shows up. It's either mostly designers, most coders, mostly video people, or what have you. SXSW was filled with designers, coders, writers, marketers, lawyers, entrepreneurs, teachers, and all sorts of people from other professions. This diversity of attendees made for a great social atmosphere and it's the primary reason why I think I'll be going back to Austin every single year from now on.