sIFR 2.0 RC4 is Here
UPDATE: Version 2.0 is now available. See article here.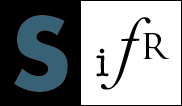 Introducing sIFR 2.0 Release Candidate 4! RC4, you say? Why so many release candidates? Don't you guys beta test?
Well, yes, we do… vigorously. But the truth is that RC1 should have still been a beta, but we had no idea how many improvements we could still make. The good news is that with RC4, we really don't have any outstanding issues that we know of anymore. sIFR even works in Konqueror now! Hot damn!
So anyway, here is a list of what's improved in RC4:
Ability to roll sIFR headlines back to plain text dynamically, or turn them off or on persistently via cookies
Better support for fringe browsers like Konqueror
Improved transparency support for Mac browsers
Squashage of various minor bugs affecting tiny percentages of the population
Multiple speed improvements
Mac IE support is now turned off by default. Although sIFR works fine with Mac IE in most situations, we figured since no one tests in that browser anymore and it accounts for such a small percentage of the population, we might as well save people the worry of having to test in it. It is possible to turn sIFR on for Mac IE if you'd like, however.
I may be forgetting a few minor things, but I think that's about it. Many thanks to Mark Wubben, whose javascript expertise is responsible for almost all of RC4's improvements. If anyone ever needs javascript or DOM work done, I highly recommend contacting Mark. His skills are second-to-none.
I also want to point everyone in the direction of the new sIFR Wiki. It is only in its beginning stages right now, but feel free to consult it for documentation, tips, tricks, and other sIFR-related goodness. If you are using sIFR on your site, also feel free to add yourself to the list of examples.
Big ups also to Danilo Celic who has created a fabulous Dreamweaver extension which can automatically export your sIFR-ized swfs for you. Danilo also has a nice video presentation showing how to use sIFR that you might want to check out if you haven't already.
Here are the details about upgrading from previous sIFR versions:

Once again, we've constructed this upgrade so that you don't need to re-export your swfs. As long as you were using RC2 or higher, your existing swfs will work just fine. There are no changes to the swf code in RC2, RC3, or RC4. There are no changes to alignment or sizing that you need to worry about either.
In most cases, a simple swapping in of the new sifr.js file is all that is necessary to complete the upgrade. There is, however, one important thing to check. In your replacement calls, you must now use the "if" statement — if(typeof sIFR == "function") — to wrap your replacement calls. In previous versions, we used this and some other methods, but this one is the mandatory wrapper now.
The "named arguments" method of writing your function calls is now the preferred method we suggest. The old method of writing out your function calls in a prescribed order is still fully compatible, but the newer method (first introduced in RC3) is just easier so we recommend it.
If you'd like to use the cookieing/enabling/disabling/removing functionality, we've included these functions in a separate javascript file called "sifr-addons.js". A potential use for this sort of functionality would be if your visitors are so curmudgeonly as to complain about nice-looking headlines, you can provide them a link to disable the Flash headlines persistently.
We've aimed to make this upgrade as easy as possible for everyone to complete. In most cases, it can be accomplished site-wide with just a few clicks. If you run a really high-profile site, perhaps wait a few days for the first comments to come in (just to make sure we haven't missed anything), but otherwise, it should be safe to roll with. Happy sIFRing!
And by the way, if anyone's going to SXSW, Shaun Inman and I will be doing a "Typography for The Screen" panel on Tuesday at 10am in which we'll cover IFR, sIFR, and other issues related to the state of typography on the web today… and how it can be improved.