The iPod End Game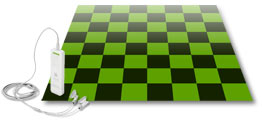 I have to admit, the iPod has been one of those devices that has fooled me from the start. I never thought anyone would buy a $400 portable music player, and before you laugh at me, remember how you felt the day it came out. If you bought an iPod within the first few weeks of it being released (or at least would have if it was PC-compatible), you're off the hook. If not, you were skeptical like the rest of the world.
Oh how times have changed since then. iPod sales have far surpassed everyone's expectations — including probably some people at Apple — and by the end of 2005, the device could see a market share of over 80%. Possibly well over 80%. An entire book could be written on the rise of the iPod, and in some senses, an entire book already has.
But I don't want to get into any of that. It's a huge hit. Bravo Apple. You are shaking up the world again… in a great, great way.
What I want to talk about is how this game will play out. How the rules will change when Microsoft puts both feet in the water. How sales will be affected when consumer tastes change. How new devices and new technologies will help, hurt, or kill the iPod. And most importantly, how Apple may attempt to defend its newfound position of power with a diversification strategy.

Let's start with a few things learned from Apple's last SEC filing.
Just the facts
The most shocking thing about Apple's latest quarterly financial report is the raw amount of revenue brought in by the iPod as a percentage of the company's total revenue. iPod revenue came at $1.2 billion while total revenue was $3.49 billion… if you subtract the iPod's share, revenue comes out to $2.29 billion, meaning the addition of the iPod to Apple's lineup essential grew the company's top-line by 52%! That is huge. What's even huger is what happened to the bottom-line. Due to off-the-charts iPod sales, Apple's profit went from $63 million in the same quarter last year to $295 million in this quarter. This was particularly shocking to analysts (and myself) because it is generally thought that the iPod is one of Apple's lower margin products. After running the numbers in my previous post, however, it appears that that has dramatically changed. A reliable inside source has also confirmed that suspicion and informed me that iPod margins are quite healthy and have risen by at least 30% since the introduction of the original iPod. This, of course, is huge for Apple as they appear to have ramped up production enough to get much better deals on parts, labor, and everything else associated with the production of iPods. Additionally, since a lot of the R&D for the iPod occurred during the initial introduction of it, those costs are no longer part of part of the equation. Yes, there's still R&D going on, but Apple has clearly hit the "margin sweet-spot" in this last quarter of sales.
Another interesting thing about this dramatic change in product mix is that given how poorly PowerMacs will be selling in the future (as compared to iMacs and Mac Minis), we should see the average margin of Apple's CPUs diminishing below that of the iPod. I am a professional designer and I'd never buy a PowerMac again. It's not a bad computer at all, but Apple has created such a powerful machine in the 20″ iMac that I really have no reason for more than that. If you edit video for a living, fine, buy a PowerMac, but for the majority of even Apple's professional user base, I reckon the consumer machines are just fine. So what Apple now has is a situation where their high-margin product (the iPod) is supposed to convert you over to their low-margin product (the Mac). Who would have thunk it.
It's a strange situation for sure, but it will not last. The fact is that the margins (and sales) Apple is enjoying on iPods right now are due to lack of competition in the space. Yes we know all there are a handful of other MP3 player manufacturers out there, but none have created the total experience that Apple has created. Apple also has not yet even begun to feel the Microsoft effect in this segment. That should change as well.
So let's examine some threats facing the iPod over the next couple of years.
The Microsoft factor
Love them or hate them, you have to respect Microsoft's power to radically affect any sector of the tech industry. They are the most powerful company in the world today and more powerful, on a world scale, than most governments. They are also fiendishly good at spotting innovation and bending it in their own favor.
So what has Microsoft done to head off the iPod power surge? To no one's surprise, it's a software-based attack. Although Microsoft profits from hardware such as mice and keyboards, they've chosen (so far) to let hundreds of other companies build the players while they build the platform. Microsoft could easily build their own player, so let it be understood that if they don't, they are betting that it is not a good idea for the long-term. They could even afford to build a player knowing it wasn't a good idea for the long-term, merely to head off Apple's momentum right now. But they're not… which means they don't think they need to.
Instead, Microsoft's plan revolves around the Windows Media Player, Janus DRM, and what's known as the "Plays for Sure" initiative.
Many Mac users (and even Windows users) remember the Windows Media Player as a clunky, crash-prone, bloated piece of software which rarely acts as it is supposed to. Times, however, have changed, and the Windows Media Player has undergone more improvements than Quicktime and Real combined over the last few years. It's nice looking now. It doesn't crash as much. Its API is much more robust than either Real's or Quicktime's. And most importantly, the WMV 9 video codec, at web bitrates, now looks better than Quicktime's or Real's. So after years of playing catch-up, Microsoft's media player is now on par or better than the competition's in many significant ways.
One of the ways the Windows Media Player is ahead is in comprehensive DRM. Apple uses the AAC format wrapped in its own FairPlay DRM and that's great for music… but what about video? I can distribute a DRM'd audio or video file with all sorts of customized rights management on it if I encode with WMA/WMV. Before you shake your head and start screaming about how DRM is evil, realize that it is a fact of life and it likely always will be. It's the only reason you can even buy music or rent video online, and Microsoft is thinking big-picture with it. Any major movie studio can distribute a full-screen, full-length, high-quality DRM'd movie right now in WMV format and it's small enough to fit on an SD card. Apple is nowhere to be found in this market right now, and unless they've got another iTunes-like coup in their pocket with the major movie studios, Microsoft will likely own this space within a year or two.
But Janus goes beyond just the Windows Media Player. It is a set of requirements that device manufacturers must adhere to in order to maintain in their role in the Microsoft ecosystem. For instance, every Janus-compatible device must have a secure clock. A secure clock ensures that the date on the device can't be tampered with in order to circumvent DRM time schedules. Furthermore, Janus-compatible devices must follow the Windows Media API exactly how Microsoft prescribes it. This means, essentially, that the device is heavily biased towards using the Windows Media Player as the sole conduit to the computer. The end result? All commerce goes through Microsoft.
The third prong in the Microsoft attack is the "Plays for Sure" initiative. "Plays for Sure" is not really any different than the concept of Windows. If you buy software which is Windows-compatible, it will work on any computer which runs Windows. If you buy music labeled "Plays for Sure", it will work on any "Plays for Sure" endorsed device. So you can already see the value in device manufacturers getting that endorsement.
With regard to the current state of the music market, the "Plays for Sure" initiative really doesn't mean anything yet. Most consumers will say "If it doesn't play on my iPod, it doesn't play for sure". What happens when Dell starts giving away improved music players with their computers though? What happens when non-Apple music players start doing more things like playing video and making phone calls? Once enough of these Microsoft-endorsed devices make their way into the market, "Plays for Sure" will start to matter a lot.
So, enough about Microsoft.
The changing role of the device
I was delighted at the release of the iPod Shuffle because it is the first iPod that I feel should not be integrated with a phone. I listen to all my music on a Treo 600 phone and the regular iPods give me little advantage over this besides a slightly nicer interface and better syncing. I tend to listen to music without touching the interface much so that part doesn't bother me, and the syncing just takes a little longer with the lack of iTunes but I'm okay with that too. Besides that, the Treo kills the iPod in almost every other category. I can make calls. I can check e-mail. I can use Bloglines. I have unlimited capacity via SD cards. I can take pictures and movies. I have much better battery life. The list goes on and on.
While the cellphone is the going to be the primary music player of most people within a few years, the iPod Shuffle fills a slot the cellphone never will: the ultra-tiny, wearable device. I need my cellphone to have a certain amount of bulk in order to carry out all of the complex interactions I have with it, but I just need a wearable iPod to be as small as possible, whatever the sacrifice in interface.
The key here is that no one wants to carry two cellphone-sized devices around. Given that people will always have a cellphone, there are only two things that Apple can do: build their own cellphone and keep making the iPod Shuffle smaller. The cellphone will be the primary music-playing device with either a hard drive or a high capacity SD card, and the Shuffle will be the device you take with you only on the rare occasions when you don't have your phone (usually during exercise or when traveling out of the country).
Some people question whether or not Apple wants to be in the cellphone business, but I think the question is not if they want to make a cellphone but rather how they can negotiate the complicated landscape of cell carriers whilst turning a profit. Russell Beattie put the subject best when he said:
"Steve Jobs has a mobile phone. I'm not sure which mobile phone it is, but he's definltely got one. And he hates it. He curses at it every day. He hates it like he hated the original IBM PC. He hates how hard it is to add contacts and make calls and he cringes at the web experience and the Java games, if he's even bothered to try them. He holds it in his hand during long trips and admires some things about it, but knows he could do it better."
Palm has already proven that you can make a high-end device like the Treo 600/650, sign deals with all carriers to support it, and turn a healthy profit in the process, so there is no reason to think Apple can't do the same. In fact, the Apple brand has so much cachet right now that I would bet at least one carrier would bend over backwards to do a comprehensive deal with Apple.
And then there's the ultimate end-around: Wi-Max. Robert Cringley wrote in an article several weeks ago that Walmart or McDonald's could cover almost as much of the country with Wi-Max as any cellphone carrier covers with GSM/CDMA in a pretty short amount of time. An antenna on the roof of every store, a management system to gate access, and you've just created a next generation data and voice network. Is Apple watching this space for an entry point? Maybe.
Accounting for taste
The last major threat facing the iPod's dominance is the simple fickleness of the modern consumer. Who's to say the trademark white headphones and colorful commercials will still be hip in a year or two? Granted, Apple is the king of hip, but what if the iPod is less fashionable moving forward. It almost has to be less fashionable considering how fashionable it is right now. What if the iPod becomes the "big brother" brand and young people turn to alternative brands? Apple has more power to maintain their brand's status than any other company, but the task is no slam dunk. And besides, as Apple proved in the 80s and 90s, the best technology and brand doesn't even win out all the time.
A good example of a great brand falling out of favor in this way is Levi's jeans. Levi's had been the #1 brand of jeans for decades and they made a great product which was heavily associated with the entire "jeans" genre of clothing. Then, in the 1990s, young people started buying alternative brands. It wasn't that Levi's was any different than they had ever been… it was that they were no different than they had ever been. Young people knew they still needed jeans, but they sought to extend their own personalities with alternative brands like Seven. Once these alternative brands as a whole start to tip, it's big trouble for the market leader… Levi's in this case. Apple in our case.
Preparing for the End Game
Now that legitimate threats to iPod world domination are on the horizon, what can Apple do to fend them off?
Keep on keepin' on
When you sell 4.5 million units of anything in one quarter, you're doing something very very right. Apple has created a huge demand for the iPod through brilliant advertising and great product design, and they are now turning a healthy profit thanks to incredible economies of scale on the production side. When consumers are throwing money at you like this, keep taking it. With market share comes power, and even if Apple didn't make a penny off each sale, they'd be strengthening their outlook in the emerging digital music market.
Build a cell or Wi-Max phone
I have no doubt about Apple's desire to make a phone. If there was nothing standing in the way, it would already be done. It won't be long before the cell phone is your camera, your music player, your organizer, your portable web client, your remote control, and your digital wallet. It will not only be your digital hub, but your single most pervasive conduit to the world. Before you say something like "The iPod is only successful because it does one thing extremely well", think about what people have been doing with their iPods. People are installing hacks to store their contacts, read their RSS feeds, and all sorts of other things. And that's to say nothing of podcasting! The point is that this device is begging to be so much more than what it was originally designed for. People love it for what it is but clearly want to make it so much more. The device doesn't need to stay simple… it just needs to still feel simple, and that's what Apple is great at.
The concept of the uber personal communicator is so powerful and its manifestation so certain, that it makes sense for Apple to provide it as soon as possible and by any means necessary. This is the sort of sentiment that Microsoft is famous for. When Redmond sees an opportunity, they throw their best resources at it even if they aren't sure when it will turn a profit. Apple made $295 million this quarter. As an investor, would you have rather seen $295 million in the bank or $100 million in the bank and a $195 million investment into the personal communicator sector? The point is, when you are highly profitable and you have over $6 billion in cash it is your responsibility to invest in dramatically growing the business. If you're not going to do that, issue a dividend. That's what Microsoft did when they decided they had too much cash.
Now, that being said, Apple did invest in growing their business when they created the iPod and it's now led directly to an over 50% increase in top-line revenue and an over 100% increase in bottom-line take-home. All I'm saying is let's see more of the same here. Show no mercy on emerging markets and get them under your control as soon as possible.
Obviously, the Wi-Max route is further out and more speculative, but if that's your end-around plan, then start throwing brainpower at it. Set your alliances early to ensure grabbing the best partner. Apple and Walmart may seem like strange bedfellows, but each has something the other wants. Walmart has wide distribution of inexpensive goods and services, and Apple has newly inexpensive goods and services to distribute. And you can bet they'd both love to get a piece of the monthly voice/data bill.
Partner with XM
Just a year ago, people were saying that satellite radio circuitry was too big to fit in a handheld device. Now, you can get a satellite radio player which is even smaller than an iPod. What's the moral of this story? MP3 player. Music. Satellite radio. Music. Someone's going to put it together, so it might as well be Apple. Apple has more juice in the industry right now than its ever had. Now is the time to use that juice on a deal with a favorable revenue split. Microsoft has already partnered with Sirius, so that road might be closed right now, but XM might be another avenue to look at.
There are so many possibilities, from a feature standpoint, that an Apple/satellite radio deal would create that it's really the subject for another blog post. Boiled down to one sentence: Satellite radio pushes new music your way which you eventually purchase through the iTunes Music Store if you enjoy it. How about being able to click "Save This Song" while you're listening to satellite radio? Now that's "m-commerce".
Develop the iTunes Music Store into an IP radio network
If Apple's not hip with the satellite radio industry, they should immediately label them a serious threat and fight them with IP-based distribution. The iTMS is probably the most pristinely kept, thoroughly stocked, and comprehensively indexed body of digital music in the world today. Why not offer it as a subscriber-only personalized radio station as well? That's something you can't do over satellite… only over IP. The idea would be a DJ-less system which automatically assembled shows based on your tastes in music.
Microsoft already has technology which finds similar songs all the way down at the soundwave level. By analyzing sound patterns in multiple music files, they claim they can introduce you to more music that you'd probably like. I'm a bit skeptical of this approach, but I do think you could accomplish the same goal using smart folksonomies instead. It's possible Apple is already developing these concepts. If they are not, they should be.
License and expand FairPlay
This is a tough one right now because Apple's control over FairPlay helps lock people into iPods while at the same time ensuring a mostly hassle-free DRM experience. The minute DRM starts to get in consumers' way is the minute they begin to reject it, and Apple has done a fabulous job at keeping it behind the curtain for the most part. FairPlay, however, could be a tremendous source of revenue once iPod profits shrink down as they inevitably will. There will always be other device manufacturers, so you might as well be getting a few bucks in licensing fees (as Microsoft is doing) for every music player sold, even if it's not your own.
As for the "expansion" part of the equation, that would involve getting into the video DRM space. Could the iTunes Music Store become an iTunes Video Store? I think so. Not many companies would have the bandwidth capability to pull off such a feat, but don't forget what company Apple has a very significant financial stake in: Akamai. They've been Akamai investors almost since day one, in fact. Akamai has more edge servers around the world than any other company, and you can bet they'd be willing to store and distribute a ton of movies if asked. Without a strategy to get into the living room (like Microsoft's Media Center), the video distribution angle is of limited utility in my opinion, but that's all the more reason to parlay this whole digital media renaissance into a compelling living room strategy. If Apple wants to be the digital hub, it can't afford to ignore any battleground.
Other strategies?
Who knows.
Surviving is about reacting
It's often all too easy to criticize Apple. Not because they've messed up in the past or because Microsoft is viewed as a more successful company, but rather because we know so little about their plans. They are intensely secretive, and just because there is no evidence they aren't already doing some of the things mentioned above, doesn't mean that they really aren't. It is for this reason that this article should not be viewed as a criticism of Apple but rather just a look at how the landscape might be changing in the next few years. The true test of how smart the new Apple really is will be how they react to these changes. If we see three years of cockiness and isolationism, we'll see this game play out just as the Mac OS/Windows duel played out in the 80s and 90s. If, however, we see Apple convert their hardware dominance in this market to software dominance (iTunes), licensing dominance (FairPlay), and commerce dominance (iTMS) — perhaps even at the expense of hardware dominance — then that's when we can say for sure that the tables have turned and Apple is the new leader of the digital era.
I'm curious to hear if anyone has any other ideas as to how this battle might turn out or what else Apple could be doing right now. The only part of this article that I'm absolutely positive about is the emerging dominance of the SD-based music player/phone. The rest is educated speculation. So if you have some of your own educated speculation, please by all means share it.