sIFR 2.0 RC 3 is Here… Come Get Some
UPDATE: Version 2.0 is now available. See article here.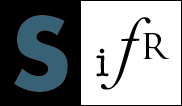 Alright, I know I said Release Candidate 2 might be the final release of sIFR 2.0, but hey, Mark and I found some more things to improve on… so we did. Today's release of sIFR 2.0 RC3 introduces the following new features/fixes/improvements:
The javascript file has been reduced down to 8.8k.
Replacement calls now use named arguments so you don't need to specify parameters in any particular order. The function is backwards-compatible, however, so existing installs will remain functional.
Newline support (<br> and <br />) now works perfectly.
Now compatible with Opera 7 and above.
New support for a "fallback" transparency color for browsers which don't support transparency. This eliminates the green background displayed in some older browsers when specifying transparency.
A shiny new sIFR logo!
Since all changes from RC2 to RC3 are contained within the "sifr.js" file, you need only replace your existing "sifr.js" file to complete the upgrade. No .html or .swf work is necessary. You may, however, decide to change your replacement calls to the new named argument syntax if you wish. This is not necessary, but you may find it preferable.
Here are links to the new files and updated example page:
Incidentally, it looks like Metafilter has picked up on sIFR today and is sending over a ton of traffic to the original sIFR article. Thanks guys!
Reading the Metafilter comment thread is a bit humorous, however. It never ceases to amaze me how some people will see the word "Flash" and cry about imaginary accessibility issues, imaginary proprietary file format issues, and other imaginary "sky is falling" issues. Look at the code people. Study it. Analyze it. Understand it before you jump to conclusions. And above all else, understand that the entire web as we know it is a hack. I'd respond on the Metafilter thread myself but I don't feel like paying $5 to join.