Referrer Spam is the New Amway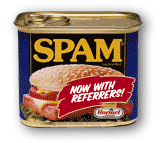 Ever since I found out about Amway and other network marketing schemes many years ago, I've always considered them the lowest form of commerce in the world. I mean, you're not creating a damned thing and you're using your friends and personal contacts to move generally unneeded goods around the economy. All to make a profit for yourself.
I think we have a new winner now in the "lowest form of commerce" category though: referrer spam. I simply don't understand the point of this silly practice. If you don't know what referrer spam is, here is the "technology" in a nutshell:
Websites maintain automatic lists of other web sites which link to them. This is useful, for instance, if I write an article and I want to see who is linking to my article and what people might be saying about it. So every day or so, I check my "referrer log" for new links. Well, what referrer spammers are now doing is polluting my log file with obviously fake referrers like "vicodin-for-free.info" and "sex-with-jenna-jamison.org". So as a result, I have to wade through hundreds of these links in order to get to real referring links.
What I don't understand is what the point of it is. The referrer log is only accessible by me and surely nobody technical enough to be checking their own referrer logs would actually click on one of those links. I've heard another reason spammers do this is because some people display their "most recent referrers" live on their sites. If you're doing this, STOP. It provides no value and only perpetuates the myth that referrer spam has a chance achieving its intended effect.
As an aside, the best way I've found to get around the referrer spam problem is to use Refer 2.0 to check your referrers. Refer 2.0 can sort referrers by frequency and most referrer spam has a frequency of one, so you can easily ignore any referrers who haven't provided you at least two referrals.
Also, for a more complete statistical tracking package, make sure and check out Shaun Inman's ShortStat. Shaun's working on a spicy new beta right now which is quite nice, but in the meantime, feel free to use the current version. You can have a look at what the output looks like here.